When to Make a Postnuptial Agreement and What to Include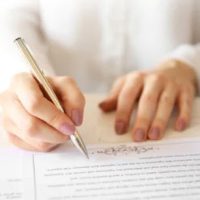 Prenuptial agreements are entered into by couples prior to marriage and detail rights to property and assets in the event they get a divorce. A postnuptial agreement is similar, except it is created after you make your vows. The following details some of the common reasons for creating this type of legal document and certain stipulations that you should include.
Reasons For Creating A Postnuptial Agreement
Couples may neglect getting a prenuptial agreement prior to marriage because they think it indicates a lack of faith in their relationship. While contemplating what would happen in the event of a divorce may seem contrary to other wedding planning, discussing financial matters before saying 'I do' can actually make your marriage stronger. However, if you did not take this important step, it is not too late. A postnuptial agreement can be drafted at any point over the course of your marriage.
The same as a prenup, it dictates how matters regarding money and property will be handled in the event of a divorce while helping clear the air regarding financial issues, such as your goals in terms of lifestyles, savings, and retirement. Common reasons to seek a postnuptial agreement include:
You want to make changes to an existing prenup: Under the Florida Statutes, a postnuptial agreement can be used to update or even invalidate any previous prenuptial agreement that was put in place.
You received a large inheritance: Money earned or acquired over the course of your marriage is subject to equitable division in the event of a divorce. A postnuptial agreement can help to preserve your inheritance.
You started a profitable business: For business owners, a postnup protects your hard-earned profits and your investment.
You have children from a prior relationship: For estate planning purposes, a postnuptial agreement helps protect your children's rights to property and assets.
You don't trust your spouse: If your spouse engaged in any type of marital misconduct, such as having an affair, it could entitle you to a greater share in a divorce. If you reconcile, their behavior may not be brought up. A postnup can protect you if the reconciliation plans do not work.
What To Include In Your Postnuptial Agreement
As a binding legal document, a postnuptial agreement should be drafted by an experienced attorney and filed with the Broward County Court. The following are basic stipulations it should include:
Your rights regarding marital property, such as homes, cars, antiques, and household items;
Your rights regarding financial assets, such as investments, money in savings accounts, and pension or other retirement benefits;
Your rights regarding spousal support, particularly if you earn less than your spouse or sacrificed your own career or education for the sake of the marriage.
Your attorney can point out other, specific issues that should be addressed in your postnup, depending on your particular situation. 
Reach Out to Us Today for Help 
As an experienced Fort Lauderdale prenuptial & postnuptial agreement attorney, Vanessa L. Prieto helps ensure your rights are protected. To request a confidential consultation, call or contact our office online today.
https://www.vanessaprietolaw.com/five-reasons-to-consider-a-postnuptial-agreement/