Five Reasons to Consider a Postnuptial Agreement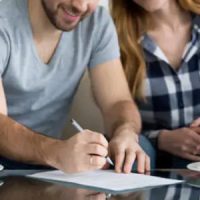 Most married couples experience problems or issues at some point that challenge their relationship. You may have even pondered getting a divorce or separating, but were eventually able to reconcile your differences. In this and other types of situations, you want to take a positive approach in making the marriage work but at the same time, you need to take steps to protect yourself. A postnuptial agreement provides a solution, helping you move forward together while providing a level of individual security.
Circumstances Where a Postnuptial Agreement is in Your Best Interests
Most people are familiar with a prenuptial agreement. Under the Florida Statutes, it provides protections for engaged couples. It clears the air in terms of attitudes towards money and expectations regarding your lifestyle as a married couple while also specifying future rights to property or assets in the event of a divorce. Money is one of the most common reasons couples fight, so creating a prenuptial agreement is a smart move that can actually increase the odds of a successful marriage.
For couples currently married, a postnuptial agreement may be an option. It can protect your rights in the following situations:
Your spouse engaged in adultery or other types of marital misconduct.
Marital misconduct is not required to get a divorce in Fort Lauderdale, but it can entitle you to greater amounts in any settlements. However, if it occurs and you choose not to pursue a divorce immediately after, you can not bring it up at a later date. A postnuptial agreement can clearly spell out the ramifications if it happens again.
You previously considered filing for divorce.
Even if your spouse did not engage in marital misconduct, a postnup can be useful if you have previously contemplated getting a divorce. Rather than risk having your partner deplete or hide assets, it can list your current holdings and your rights in any potential settlements.
You recently received an inheritance.
Anything earned, acquired, or accumulated during your marriage is subject to the rules of equitable division in the event you file for divorce through the Broward County Family Court. This can include family inheritances. A postnuptial agreement can help to preserve these assets for you and future generations.
You have started your own business.
The same as with other types of marital property and assets, your spouse may legally be entitled to a portion of any businesses you have started since you were together. A postnup helps to protect your interests and that of any partners you have.
There are major differences in your attitudes towards money.

Over the course of your marriage, you may have discovered your partner to overspend or to underestimate the advantage of saving. To protect your future financial security, a postnuptial agreement may be in order.
Reach Out to Us Today for Help
The same as with a prenup, a postnuptial agreement can actually help preserve your marriage. To discuss your options contact Fort Lauderdale prenuptial and postnuptial agreement attorney Vanessa L. Prieto today to request a consultation.
https://www.vanessaprietolaw.com/when-to-make-changes-to-your-prenuptial-agreement/