Accepting When a Marriage Cannot Be Saved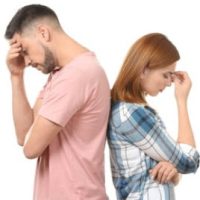 Getting a divorce is nothing you should rush into. For couples experiencing marital problems, there are several options to consider before making the difficult and life changing decision to end the marriage. Individual or couples therapy may be an option and a trial separation may help you both get perspective on the situation. For some, it may simply be a matter of renewing your commitment to one another and choosing to spend more time rekindling the romance in your relationship. However, there are certain situations when circumstances make getting a divorce seem inevitable. If you are experiencing any of the following five scenarios, you may need to accept that your marriage cannot be saved.
Either You or Your Spouse Has Committed Adultery

According to Psychology Today, having an affair is one of the top reasons cited by couples in seeking a divorce. It does not have to be a physical relationship with another person either. Counselors claim that an emotional affair can be just as damaging to your marriage. It may be a question of you falling in love with someone else or being unable to forgive your spouse for cheating. In either case, while these situations can be worked through, it can also signify that divorce is imminent.
Your Partner Is Suffering From an Addiction
Being involved with someone who is addicted to substances such as alcohol or drugs or to behaviors such as gambling or sex is heartbreakingly frustrating. Regardless of how much you love and support them, the decision to change is up to them. As you cannot force your spouse into recovery or make them embrace healthier behaviors, ending the marriage may be the best way to protect yourself.
You Have Major Differences of Opinion On Life Or Family Matters
Under the Florida Statutes, divorces are granted on the basis of irreconcilable differences between the parties. This means that there are issues in your marriage which you and your spouse are simply unable to resolve. This often involves major differences of opinions about matters such as finances, religion, lifestyle, or the raising of children.
You Are No Longer Willing To Work On The Relationship
Even the best marriage requires some effort. This can mean making more time for each other and an effort to understand the other's feelings, or accepting that you will need to make certain compromises. If you or your spouse is no longer willing to do these things, the marriage is likely to fail.
There Are Signs Of Physical or Emotional Abuse
Spouses who become abusive rarely change. If you are currently experiencing domestic abuse or your partner routinely disrespects you, it is important for your own well being to get help immediately.
Contact Us Today for Help
As an experienced Fort Lauderdale divorce attorney, Vanessa L. Prieto provides the support and legal guidance you need when making the difficult decision to end your marriage. To discuss your options, call or contact our Fort Lauderdale office online and request a confidential consultation today.
Resource:
psychologytoday.com/us/blog/tech-support/201804/9-warning-signs-relationship-just-cant-be-saved
https://www.vanessaprietolaw.com/five-things-to-consider-before-agreeing-to-a-marital-property-settlement/