Dealing with Adult Children When Getting a Divorce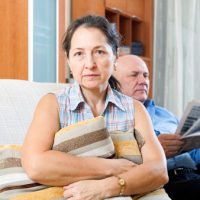 When a couple gets divorced, it has a significant impact on other family members. This is particularly true with children, even if they are adults. Just because your kids are no longer dependent on you or living in your home, they will still experience impacts that can put a strain on your relationship with them.
Adult Children and Divorce Impacts 
As parents, your primary concern is your children's health and happiness. This is true whether they are young or older and living their own adult life. Family continues to be a source of security and comfort while your marriage to your spouse is likely something they take for granted. However, divorce has become increasingly common among older adults, who often have grown children. According to the Pew Research Center, the divorce rate among people aged 50 and older has more than doubled since the 1990s.
Every divorce is as different as the couple involved and the reactions among children can be varied as well. In some cases, adult children may be supportive and even somewhat relieved by the decision, particularly if the relationship between you and your spouse was particularly contentious. In other situations, they may be heartbroken to hear the news that the family is 'splitting up' and may have difficulty adjusting to the changes required. Some of the impacts you are likely to experience include:
Taking one side or the other, particularly if marital misconduct was involved;
Either becoming distant emotionally or overly worried about you;
Making plans that involve both you and your spouse in an effort to save the marriage;
Being resistant to your new lifestyle and any new relationships you may get involved in.
Tips for Telling Adult Children About Your Divorce
Communication plays an important role in helping adult children adjust to a divorce. While you do not want to reveal too many details, you do want to be open and honest with them about what is happening. Next Avenue advises that with little children, parents are encouraged to schedule a time to tell them where you and your spouse will both be present to answer their questions while assuring them that they are not responsible for the breakup. The same basic theory applies for adult children as well. Additional ways to make this conversation easier for both you and them include:
Avoiding blaming one spouse or the other for the marriage failing.
Address how the divorce may impact them, such as how you will handle visits during the holidays.
Realize that the news may come as a shock and they could react in anger or appear numb.
Do not use them as an excuse for having stayed together over the years.
Let Us Help You with Your Case
Fort Lauderdale divorce attorney Vanessa L. Prieto provides the trusted legal guidance needed to deal with the complex issues surrounding divorces which involve older couples.  To request a consultation about your case and how we can help, contact our Fort Lauderdale office today.
Resources:
nextavenue.org/how-tell-your-adult-children-youre-divorcing/
pewresearch.org/fact-tank/2017/03/09/led-by-baby-boomers-divorce-rates-climb-for-americas-50-population/
https://www.vanessaprietolaw.com/hidden-information-in-tax-returns-could-impact-your-divorce/