Is Inflation Increasing The Likelihood Of Getting A Divorce In Fort Lauderdale?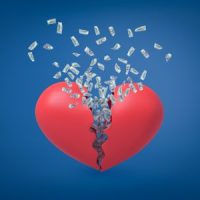 High inflation rates over the past year may not have only impacted your bank account. Money matters can wreak havoc on relationships and are one of the things married couples fight over the most. Is inflation increasing the likelihood of getting a divorce in Fort Lauderdale? Recent surveys show how, while it may not be completely to blame, it can definitely be a source of trouble.
Survey Shows Debt and Spending Major Factors In Divorce
Debt.com recently posted the results of its annual Debt and Divorce survey. It revealed that nearly half of all respondents claimed that financial difficulties were a factor in filing for divorce over the course of 2022. This represents an increase of more than 10 percent over the prior year's figures. Other statistics revealed in the survey include:
Forty percent claimed that disagreements over major purchases, such as homes or cars, were a problem in their marriage;
One-third claimed that outstanding credit card debt was a major factor in filing for divorce;
36 percent said that their spouse hid credit card debts;
Excessive shopping and going out to eat were a factor in roughly 25 percent of all cases.
Is Inflation To Blame For Increasing Divorce Rates?
There is no doubt that financial problems can be a major contributing factor in choosing to get a divorce. Money and the rights to property are also among the biggest issues divorcing couples fight about the most. However, while high inflation rates over the prior year did not help the situation, it is likely not to blame among couples currently seeking a divorce in Fort Lauderdale.
According to a March 2023 Forbes report, while the inflation rate rose dramatically during 2022, it has begun to drop steadily. Unfortunately, consumer prices remain high. While this may not be directly causing dramatic increases in the divorce rate, feeling pinched financially may be responsible for an increased amount of friction among couples who were already on shaky ground to begin with. The following tips can help in addressing financial disputes between you and your spouse and in deciding whether divorce is your best option:
Make it a point to be honest and avoid blame when discussing money matters;
Sit down with your spouse, review all outstanding assets and debts, and come up with a budget you can agree on;
Discuss your goals in terms of lifestyle, your professional career, where you live, and where you see yourselves in the future;
Consider creating a postnuptial agreement, which can further address the above issues and protects your rights in the event a divorce becomes inevitable.
Request A Consultation With Our Fort Lauderdale Divorce Lawyer
If you are experiencing problems in your marriage or are considering getting a divorce, the law office of Vanessa L. Prieto can provide the trusted legal guidance you need. To discuss your options, call or contact us online and request a confidential consultation with our Fort Lauderdale divorce lawyer today.
Sources:
debt.com/research/divorce-survey/
forbes.com/advisor/investing/current-inflation-rate/