Postnuptial Agreements Can Protect You When Reconciling With Your Spouse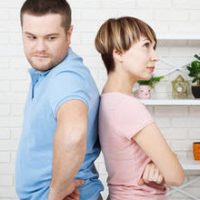 Making the choice to end your marriage is a complicated and painful decision, even after a period of separation. Whatever the problems in the relationship that prompted you to live apart, time away from each other and perspective on the situation could make a reconciliation seem like a good idea.
Problems can arise, though, if your spouse had engaged in conduct which would be a factor in divorce proceedings. While Florida is a no-fault divorce state, behaviors such as infidelity or alcohol abuse could have an impact on decisions regarding property settlement, alimony, and timesharing plans. In these situations, having a postnuptial agreement or amending your prenup may be the best way to ensure your rights are protected.
Pre- and Postnuptial Agreements 
Guidelines for establishing pre- and postnuptial agreements are outlined under Section 61.079 of the Florida Statutes. These agreements typically cover the following:
The right to buy, sell, use, or possess in any way personal property such as real estate, household furnishings, gifts and inheritances, business interests, pensions, retirement accounts, and other financial holdings.
Distribution of marital property in the event of a separation, divorce, death, or other events;
Provisions concerning the award of alimony;
Other provisions, such as confidentiality agreements and stimulation for each party to be responsible for their own attorney's fees and costs.
If you have gone through the process of initiating a separation from your spouse as the result of issues or problems within your marriage and have now decided to try and reconcile, it is natural to feel a level of distrust over whether old patterns of behavior are likely to repeat. Having a postnuptial agreement or adding stipulations to your existing prenup, such as penalties for infidelity or a repeat of other reckless and damaging behaviors, can show an honest effort on the part of your spouse to amend the situation, while providing you a level of security.
Reconciling With Your Spouse 
Making sure the same patterns of behavior that originally resulted in a separation do not repeat themselves once you have reconciled requires open and honest communication between both spouses. Psychology Today advises that in addition to the things that need to be changed in the relationship, it is also important to keep a steady focus on your strengths individually and as a couple, as well as your motivations for getting get back together. Questions you and your partner might want to consider include:
What did I miss the most about my partner and this relationship?
What aspects of our relationship seem to work best?
What areas do we need to improve in?
What does my partner or I need to do differently?
What behavior am I or my partner unwilling to tolerate?
We Can Assist You Today
Choosing to reconcile with your spouse is a big decision, and one that can leave you vulnerable both emotionally and legally. At the Vanessa L. Prieto Law Offices, LLC, we act as a trusted advocate on your behalf, looking out for your interests and addressing issues which could jeopardize your future security. Call or contact our Fort Lauderdale pre- and postnuptial agreement attorney online today to discuss the options which might be available in your situation.
Resources:
leg.state.fl.us/statutes/index.cfm?App_mode=Display_Statute&URL=0000-0099/0061/0061.html
psychologytoday.com/blog/the-squeaky-wheel/201106/giving-relationships-second-chance