Six Behaviors that Could Hurt Children During Time-Sharing Visits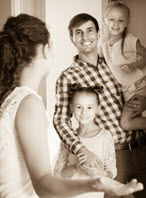 Leaving your child with the other parent as part of a child time-sharing agreement is often difficult. While you may need the break to pursue work or your own interests, it is natural to worry about their wellbeing and safety. While some cases may simply be a matter of learning to let go of control, in others your concerns may be warranted. The following are six types of parenting behaviors that may indicate a need to return to court.
Parenting Behaviors that Could Endanger Your Child
Parents who are going through a divorce and those who are single and no longer living together will need to submit a Florida parenting plan to the court as part of their child time sharing proceedings. Among the issues addressed in this plan is the amount of time the child will spend with both you and the other parent.
While having each of you play an active and engaged role in their lives will benefit your child, there are situations which can put them at risk. The following are six negative parenting behaviors that you should be alert for:
Having 'friends' over during visits. While the other parent is not required to devote their undivided attention to your child during weekday and weekend visits or an extended stay, spending too much time with unsavory friends or romantic partners is not in the child's best interests.
Taking children to unsuitable places. The same goes with taking children out to friends homes or to social gatherings. Certain types of places, such as dark bars, heavy metal concerts, or other adult only gatherings, are not age appropriate.
Pushing children beyond their limits. Parents who enjoy skydiving, deep sea fishing, motor biking, or other types of adventures may be enthusiastic to share their hobby with your child. However, the child's age, ability, and preference should always be a top consideration.
Losing your temper. We all get angry on occasion. However, if 'losing your cool' for the other parent involves screaming, cursing, making accusations, or throwing things, it could have negative impacts on your child.
Dwelling on the past. Some people are better at moving on after a loss than others. Rehashing old resentments, stalking behaviors, or being excessively depressed are all signs that the other parent needs help. If they cannot put these feelings aside when your child is present, you may need to take a second look at your parenting plan.
Engaging in drug or alcohol abuse. Under the Florida Statutes, there are certain types of behaviors that could jeopardize your rights in child time sharing proceedings. If the other parent has problems with alcoholism and drug addiction, you need to take firm steps to protect your child.
Let Us Help You Today
At the Law Firm of attorney Vanessa L. Prieto, we can help you determine whether going back to court to have a previous child time sharing order might be in you and your child's best interests. Contact our Fort Lauderdale child time sharing attorney and request a consultation to discuss your situation today.
Resource:
flcourts.org/core/fileparse.php/533/urlt/995a.pdf