Tips for Dealing With Summer Vacations In Your Parenting Plan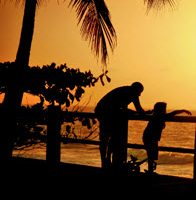 If you are divorced or otherwise living apart from your former partner, your child time sharing arrangements dictate when each of you sees your child and the amount of time you get to spend with them. If you are the primary caregiver, it is not uncommon that the other parent will want to take the child with them for a vacation, or to at least spend extended time with them while they are out of school. If this has been addressed through your parenting plan and does not put your child in danger, there is little you can do to prevent it from occurring. The following are tips for dealing with the situation, and any uneasiness you may be feeling as a result.
Helping Your Child Cope with Extended Time Away From Home 
Under Florida parenting plan guidelines, each parent is entitled to spend additional time with children over holidays and school breaks. This may also include provisions allowing the parent who is not the primary caregiver to take the child away for trips and vacations.
Whether they are going away for a week or an entire month over the summer, the change in schedule and environment could make your child uneasy. To ensure the visit goes smoothly and your child successfully makes the adjustment to being away from home, follow these tips:
Allow them to take several personal items with them, such as a favorite blanket or toy;
Make arrangements in advance regarding regular phones, texts, Skype, and other forms of communication;
Provide the other parent with a list of details about the child that they might not be aware of, such as food preferences, bedtime routines, and allergies;
Despite any anxiety you may be feeling, try to be positive about the visit in front of your child;
Put aside any personal issues between you and the other parent and let them know you support them and will be available if they have any questions or concerns.
When Issues Arise
Despite your best intentions and willingness to support your child in their relationship with the other parent, there are situations which may come up that give you cause for concern. If it is an issue with the other parent's behavior or the types of activities they have planned, you may be able to discuss the situation with them and resolve it without going to court. If you have valid reasons to fear for your child's safety, a modification may be in order.
Under the Florida Statutes, you may be able to have your parenting plan changed, either preventing the other parent from having extended visits or from engaging in certain types of activities. Violations of any current or future orders could result in contempt charges being filed against the other parent.
Contact Us Today for Help
For legal guidance pertaining to parenting plans, your rights, and how to protect your child, reach out and contact attorney Vanessa L. Prieto. We can arrange a consultation to discuss your situation and the best course of action in dealing with extended visits, vacations, and other issues that are common over the summer months.