What Happens If My Spouse Will Not Sign For A Divorce?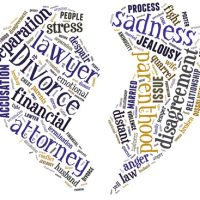 Problems in a marriage are not always clear to both parties. When the idea of getting a divorce is raised, it is not uncommon for one of the spouses to refuse to accept it. In Florida divorce proceedings, it can go smoother, quicker, and be less expensive when both spouses agree on the terms, but refusing to sign divorce-related paperwork will not keep the case from going to court or prevent the divorce from being granted.
Contested and Uncontested Divorce In Florida

Florida is a no-fault divorce state. As outlined throughout Chapter 61 of the Florida Statutes, this means that you are not obligated to prove specific fault grounds, such as adultery or habitual drunkenness, but only that the marriage has been irretrievably broken and is beyond repair. There are two basic types of divorce in Florida:
Uncontested divorce, in which both parties agree to the divorce and on issues such as marital property division, alimony, and child parenting plans;
Contested divorce, in which the parties do not agree, either concerning the divorce itself or on one of the surrounding issues.
Contested divorces are eventually granted, though it may take longer and generally costs more. This is due to the need for mediation and negotiations between the spouses and each of their attorneys, as well as for additional motions and court hearings concerning the issues involved.
Default Judgments In Divorce Proceedings
It is not uncommon for one of the spouses involved in a divorce to attempt to block it from occurring by refusing to sign the paperwork or to answer summons to appear in court. This is generally a poor strategy in dealing with the situation, as it tends to result in the filing spouse's favor.
Under Florida family law rules, when a person files a petition for divorce, it must be served on their spouse, who is then given a period of at least 20 days to respond. If your spouse refuses to comply or appear at scheduled hearings, you may request a default judgment. In addition to allowing your divorce to proceed towards finalization, a default judgment in divorce proceedings may also include the following:
Temporary orders granting parental responsibility;
Temporary rights to certain property and assets;
Temporary restrictions in the ways in which your spouse may contact you or your family.
To ensure a default judgment is not overturned, it is important to provide proper service of legal documents to your spouse according to established court guidelines. This includes having a sheriff or process server hand deliver the initial petition and summons, or posting notice in the paper, in the event your spouse's whereabouts are unknown.
We Can Help You Today
If you are separated from your spouse or contemplating a divorce, contact the Vanessa L. Prieto Law Offices, LLC  today. Our experienced Florida divorce attorney acts as a trusted legal advocate, answering your questions while helping determine the best course of action based on your particular circumstances.
Resource:
leg.state.fl.us/statutes/index.cfm?App_mode=Display_Statute&URL=0000-0099/0061/0061.html