Approaching Your Partner About A Prenuptial Agreement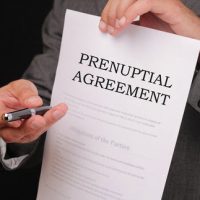 Bringing up the idea of a prenuptial agreement with your fiancé may be something you have been putting off or dreading. At the same time, it is an important step for the both of you to take as a couple, and one that can help get your marriage started on the right financial footing. The following outlines how to approach your partner about a prenup, and some of the mutual advantages to highlight.
Bringing Up The Topic Of A Prenuptial Agreement 
When you are in love and busy planning your happily wedding, even the mere hint of a breakup can be decidedly unromantic. The fact is, it is a perfectly reasonable and realistic conversation to have with your future spouse, particularly in light of our country's high divorce statistics. If you dread the idea of bringing up the topic or are wondering how you can approach it in a more positive way, the website Entrepreneur offers the following suggestions:
Bring it up as early as possible. Do not wait until the last minute, when you partner will likely feel pressured. Plan a time when you are both relaxed and in a good mood, preferably at least a month or more before the actual wedding.
Be honest about why you want it. If you have concerns about the high rate of divorce and assets you want to protect, you can say so in a loving and honest manner. Trying to make it seem like it is the best thing for them – even though it may be – is likely to raise suspensions.
Invite them to be involved. Rather than handing your partner a pre-drafted agreement, explain you would like to discuss the terms together before having an attorney draft the document.
Pointing Out The Advantages 
Once you finally get around to bringing up the idea, you can point out the advantages a prenuptial agreement offers the two of you as a couple. In addition to protecting your individual interests, wedding website The Knot advises that it can also achieve these mutual goals:
It allows you to decide what will happen to your assets in the event of a death or divorce, rather than leaving it in the hands of a judge;
It allows you to face your financial future together in an open and honest way, disclosing all income, assets, and liabilities;
It allows you to face the unfortunate reality of divorce, opening the door for conversations on how to make your marriage stronger.
Reach Out to Us for Help
If you are planning on getting married and have concerns about premarital agreements or how to bring up the topic, our Florida attorney is here to help. Contact the Vanessa L. Prieto Law Offices, LLC  to discuss all the potential benefits that a prenup offers, and how it can be catered to your situation. You can trust us to provide the professional legal guidance you need to protect you individually and as a couple, so call or contact our Fort Lauderdale office online today.
Resources:
theknot.com/content/should-we-get-a-pre-nuptial-agreement
entrepreneur.com/article/227088