Dealing With Blended Families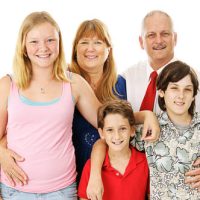 There is life after a divorce, and it often involves a partner who has gone through the same or a similar experience. Both of you may be dealing with the reality of having to deal with an ex in your life, particularly if there were children from the marriage and you are dealing with parenting plan and timesharing agreements.
Blended families have come a long way over the years, and the closeness that develops between parents and sibling often makes the use of the term 'step' obsolete. At the same time, these relationships generally take time to develop, and it may be necessary to make changes to prior arrangements before you find what works for everyone.
What To Expect With A Blended Family 
According to Parents.com, of the roughly 1.2 million people who get divorced each year, roughly 75 percent eventually get remarried. As part of the deal, they often end up with blended families, requiring them to deal with both the challenges and joys that come from joining two separate sets of children and two distinct parenting styles and building it into one cohesive whole.
Falling in love and building a home when you have children from a prior marriage takes patience and perseverance, along with a good sense of humor. Parents.com claims that it can take between two and five years for a stepfamily to firmly establish itself, and part of the process involves dealing with everyone's schedules.
Each parent is likely to have an established parenting plan with their former partner, providing a set amount of time with their child each week. Parenting responsibilities, such as making decisions and paying expenses, are likely divided as well. All of this can create challenges when it comes to establishing new routines for weekdays, weekends, holidays, and special occasions. It can also aggravate matters if your previous spouse is undependable, unsupportive, or sporadic in holding up their end of the deal, and changes to prior court orders may be required.
Knowing When Changes Are Needed 
Parents.com advises that it is important to be consistent with children to avoid having them become confused or insecure. You will know it is time to make changes in your parenting plan arrangements when it begins creating conflicts and having a negative impact on your children or your current marriage.
Under Florida's timesharing statutes, these arrangements may be modified when there is a significant change in circumstances among any of the parties involved. Through your timesharing attorney, you may be able to petition the court to modify any of the following:
The amount of time your child spends with each parent;
Plans for holidays and summer vacations;
Financial responsibility, including changes in allocations of expenses;
Decision making responsibility as it applies to school or religious activities.

To discuss how a modification of your existing court order might be modified to better suit you, your current spouse, and your children's needs, call or contact the Vanessa L. Prieto Law Offices, LLC  today to set up a free consultation with our Fort Lauderdale timesharing attorney today.
Resource:
parents.com/parenting/divorce/blended-families/challenges-of-blended-families/