Considerations when Divorcing an Addict or Alcoholic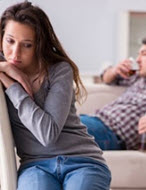 Dealing with a loved one who has an addiction or a drinking problem can be one of the most heartbreaking and frustrating situations. When not active in their addiction, they may be loving spouses and parents to your children. However, just when you start to relax or when they are counted on most, they have a tendency to 'blow things up'. If you are feeling as if you are at the end of your rope in dealing with them,  filing for divorce may be an option to consider. The following highlights some of the factors that are common in these types of divorce cases.
How Your Spouse's Addiction Impacts Your Divorce Case 
Habitual drunkenness or drug use on the part of your spouse would at one time been considered  grounds under which you could file for divorce. Today, the only grounds required for ending your marriage are irreconcilable differences between you and your partner.  However, this does not mean that your spouse's behavior could not be brought up as a factor in your divorce proceedings. Two main areas likely to be affected include:
Marital Property Division: Under the Florida Statutes regarding marital property division, addictive behaviors may be a factor in awarding you a larger amount as part of your divorce settlement. This is the case if your spouse wasted assets, such as draining bank accounts or selling off property, including jewelry, cars, or other items, in support of their alcohol or drug problem.
Child Time Sharing: In determining the best interests of your child in creating a parenting plan in Florida, the existence of a drug or alcohol problem is a factor which might prevent the addict or alcoholic from putting the child's best interests first. In this situation, mandatory counseling or time in a rehabilitation center, drug testing, and supervised visitation may be in order.
Helping Your Family Recover During and After Divorce
Alcoholism and drug addiction is a disease. While you may be reluctant to 'give up' on your spouse, filing for a divorce may be the only way to ensure both you and your children are protected. Health Street, a drug and DNA testing provider in Florida, advises that divorcing an addict or alcoholic should be considered in the following situations:
When there are major, negative changes in the marriage and in your home life as the result of a spouse's addiction;
When counseling and other efforts have been tried and failed;
When you find yourself becoming increasingly isolated and unable to connect with friends or family as the result of your spouse;
When children begin acting out or showing signs of trouble at home or at school.
Reach Out to Us Today for Professional Help 
If you are struggling in dealing with a spouse's addictive behaviors, reach out and contact our Fort Lauderdale divorce attorney. We can arrange a confidential consultation with you at the law firm of attorney Vanessa L. Prieto, to discuss the best course of action in your particular situation.