Facing The Prospect Of A Divorce As An Older Adult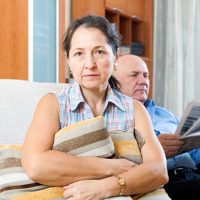 Divorce is one of the most painful and difficult experiences you can go through in life. In addition to the emotional impacts, it can take a heavy toll on your finances. This is particularly true for older adults. Our Fort Lauderdale divorce attorney has decades' worth of experience providing the caring support and professional legal representation clients need in these cases. Find out some of the issues you are likely to face and what you may be entitled to in terms of a divorce settlement.
Common Issues In Older Adult Divorce
According to the U.S. Census Bureau, divorce rates have increased dramatically among older adults, impacting close to half of all couples over the age of 50. If you are currently facing the prospect of a divorce, it is important to be aware of some of the potential issues you may face. These include:
Having to provide financially for yourself after years of relying on your spouse;
Facing uncertainty over retirement plans;
Being forced to either sell or otherwise part with family homes, heirlooms, and other valuables you have accumulated over the years;
Wondering how a divorce will affect your current estate plans and both you and your children's rights in the future.
Protecting Your Rights In A Divorce Settlement
Under the Florida Statutes, issues pertaining to money and property must be addressed in any divorce before a final order can be issued. These can be of particular importance in cases involving older adults. To protect your rights, areas we can help you address in any settlements include:
Marital property division: You are entitled to a fair share of all money, property, or other assets accumulated during your marriage.
Spousal support: If you relied on your spouse's income or sacrificed your own career for the sake of your marriage, you may be entitled to spousal support payments, otherwise known as alimony.
Retirement benefits: Pensions, money your spouse has in 401k's, and other retirement benefits are included as marital property. This means you are entitled to a share. You may also be entitled to a portion of your spouse's Social Security benefits, depending on how long you were married.
Estate planning: You may want to include provisions regarding life insurance in your divorce settlement, particularly if your spouse owes alimony or payouts for marital property. You will also want to make changes in wills and other important estate planning documents. Consider negotiating how your divorce impacts your adult children and their inheritance and whether a trust can be used as part of a settlement to ensure that all of you are protected.
Reach Out to Us Today for Help
At the law office of Vanessa L. Prieto, we provide the caring support and trusted legal guidance you can count on when facing the prospect of a divorce. To discuss how we can help in your case, reach out and call or contact our Fort Lauderdale divorce attorney online to request a consultation today.