Four Outside Influences That Increase Your Odds Of Getting A Divorce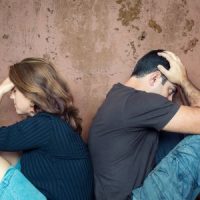 Problems can arise in your marriage for a variety of reasons. Internal conflicts between you and your spouse can build up over the years, resulting in bitter disputes that are difficult to ever resolve. Often, these can be traced to outside influences. The following are among the four most common and can increase the odds of getting a divorce.
Outside Influences That Make Your Marriage More Likely To Fail
A December 9, 2021 Best Life article detailed data that purports you are more likely to get a divorce if you live in certain cities. Based on U.S. Census figures, Jacksonville, Florida was at the top of the list. Arizona, California, Colorado, Indiana, and Texas were other states that all had at least one major city included.
While the premise of the article is that your odds of getting a divorce increase depending on where you live, it does not delve into underlying influences involved. These include:
Not being close to friends and family. 
Having the support of family and friends can make a major difference in your marriage. Living far from home or in a city where you may not have many personal connections to offer encouragement during rough patches can increase the likelihood of a breakup.
Being too close/negative attitudes.
Conversely, being too close to family and friends can also spell doom for your marriage, particularly if they have negative attitudes towards your spouse or to marriage in general. Constant criticism and comments that cast doubt on your partner or your relationship can eventually cause you to consider divorce. 
Job pressures.
Job pressures can also take a major toll on your marriage and these can vary based on where you live. The responsibilities that go along with corporate positions in large metropolitan areas can eat up all your time while blue collar jobs in more rural towns can leave you mentally and physically exhausted, leaving you with little energy left for your spouse. 
Different goals in terms of lifestyle and hobbies. 
Where you live can have a major impact on your lifestyle and the types of recreational activities available. If one spouse prefers being close to nature, hiking and engaging in other outdoor activities, while the other prefers fancy dinners, art galleries, or nightclubs, it can eventually create problems in your relationship.
Discuss Your Situation With Our Fort Lauderdale Divorce Attorney
Where you live is not a key indicator of whether you will have a happy marriage, but outside influences can make building a successful relationship harder. If you are considering filing for divorce through the Broward County Courts, reach out to the law office of Vanessa L. Prieto.
As an experienced Fort Lauderdale divorce attorney, we can meet with you to discuss the situation and options available. Our goal is to ensure your rights and overall best interests are protected, regardless of any actions you take. To request a confidential consultation, contact our office today.
Resource:
bestlifeonline.com/news-city-highest-divorce-rate/