Financial To-Do List Before Asking for a Divorce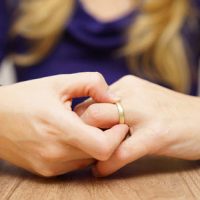 Asking your spouse for a divorce or even a separation is a major step.  Before making this type of announcement, you want to be sure you are prepared for any possible repercussions. While there are plenty of emotional factors you will want to consider, you also want to be prepared financially. Getting a divorce can have a major impact on your financial security, both now and in the years to come. Before taking any major steps or announcing your intentions, check off the items on this to do list first.
Make copies of all important documents.

Be aware that during your divorce proceedings, you will need important information, such as copies of your marriage license, birth certificates for children, social security numbers, and statements regarding your debts and financial assets. Locating and organizing these documents can prove challenging so begin gathering the information you will need now.
Make a list of all your assets and debts.
As you gather important documents, begin organizing a list of all your marital assets and debts. As part of your divorce related paperwork, you will need to file a financial affidavit with the Florida courts.This will include information about financial accounts, such as savings, investments, and pensions or retirement plans, as well as debts such as your car, home, or any credit card balances owed.
Make a list of all marital property.
Under the Florida Statutes, anything earned, acquired, or otherwise accumulated over the course of your marriage will be divided equitably between you and your spouse. It is not uncommon for a spouse to attempt to hide or even destroy these types of assets. Making a thorough inventory now of all the property you own, including items such as furniture, artwork, collectibles, and antiques, can help to ensure you get what you are entitled to in these proceedings.
Consider who will stay in the family home.
Deciding who will leave and who will remain in the family home is often a major point of contention in divorce proceedings. If you have children, they will be a factor in these decisions. In general, if you think you want to retain possession of the home even after your divorce, it is best to remain in it throughout the process.
Estimate your expenses.

Going from living on two incomes to one is a major adjustment. Begin now calculating exactly what your future expenses will be and how much you will need to provide for yourself in the aftermath of your divorce. If your spouse makes considerably more than you or you sacrificed your career for the sake of the marriage, you may be entitled to spousal support.
Let Us Help You Today
To discuss your options and additional ways to protect yourself in a divorce, reach out and contact attorney Vanessa L. Prieto today to request a one on one, confidential consultation. As experienced Fort Lauderdale divorce attorneys, we provide the professional legal guidance you need to ensure you are protected throughout the divorce process.
Resource:
flcourts.org/core/fileparse.php/293/urlt/902b.pdf