Five Things to Put On Your Post-Divorce To-Do List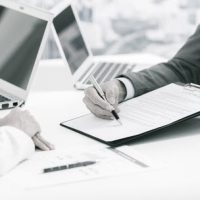 Going through a divorce is a life changing process. You may have had to leave a home or property that you had grown attached to, while facing financial losses that impact your lifestyle and manner of living. Once close relationships with friends, neighbors, and family members can easily become strained, leaving you feeling off balance, insecure, and alone. While these feelings are natural, there are practical steps you can take to help yourself through this period of adjustment. The following are five things that should be at the top of your post-divorce to-do list: 
Build your credit.
Under the Florida Statutes (Section 61.075), all marital property, assets, and debts should have been divided on an equitable basis during your divorce. If you have not started already, now is the time that you should begin the process of reestablishing your credit. Get a copy of your credit report to make sure all joint accounts are closed, and open up one or two new accounts in your name alone.
Address losses in income.
If you did not work during your marriage, issues pertaining to spousal support and alimony should have been addressed in your divorce proceedings. Even if you remained in the workforce, making the adjustment from two incomes to one is challenging. Along with looking for ways in which you can cut expenses, consider side jobs based on your talent and skills. Selling items online, offering services, and acting as a consultant can help you meet expenses and rebuild your savings.
Update estate planning documents.
If you had a will, life insurance policy, or other estate planning documents in place during your marriage, your spouse was likely named as your beneficiary. Now that you are divorced, you will want to update these to reflect your current situation. If you did not previously have a will in place, consider creating one now.
Make plans for the future.
Psychology Today urges those who are recovering from a divorce to make plans for the future, rather than dwelling on the angry or painful feelings of the past. Discover new hobbies, take a course at your local college, or plan a trip somewhere that you have always wanted to visit. Even if you are on a limited budget making small changes, such as modifying your diet or trying a new form of exercise, can help you feel more positive about yourself and your future.
Take care of your health.
Divorce is one of the most stressful life experiences, and it can take a toll on both your physical health. Make an appointment for a checkup with your doctor, and avoid indulging in bad habits, such as over eating or drinking. If you are struggling with depression as a result of your divorce, seek help from a professional.
Contact Us Today for Help
Addressing issues during your divorce case can help make recovery easier. If there are unresolved issues or items you feel were overlooked, our Fort Lauderdale divorce attorney may be able to help. Reach out and contact attorney Vanessa L. Prieto to request a consultation today.
Resource:
psychologytoday.com/us/blog/the-intelligent-divorce/201309/seven-ways-thrive-after-divorce