Five Ways to Protect Your Child During a Marital Separation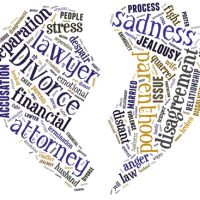 When your spouse commits actions you deem unacceptable or when you find yourselves fighting all the time and over even the most insignificant issues, spending time apart from each other may be the best way to get some perspective on the situation. Whether you only intend temporary separation or have already considered the prospect of filing for a divorce, the impact the situation has on your children is likely one of your most important considerations. The following are tips you can use to help them handle and adjust to your separation, while you decide what to do with your marriage on a more permanent basis.
Helping Your Children Deal with Marital Problems 
While it is natural for children to feel sad and stressed over fighting and marital problems between you and your spouse, there are ways you can help minimize the potential trauma they experience through this challenging time. Children tend to irrationally blame themselves when parents separate or elect to seek a divorce, and reassuring them that the problems you and your spouse are experiencing have nothing to do with them should be a top priority. It is important to acknowledge their feelings and to be patient while they work to accept the situation. Ways you can help make this easier include the following:
Avoid bad mouthing your spouse or using your child as a sounding board for your own emotional issues.
Avoid fighting in front of them or having serious discussions about the future of your marriage in their presence.
Be honest about the separation and your plans for the future. Do not give them false hope that you will get back together, particularly if you think it unlikely to happen.
Talk to them about what to say about the situation to friends and family members. Avoid asking them to keep secrets or to lie about what is going on in your home.
Try to keep a regular routine as much as possible, keeping up with their school and recreational activities.
Aim at stability in their environment by either remaining in the family home and having your spouse leave, or by making sure their furnishings and personal belongings go with them if you move.
While there is no such thing as a legal separation in Florida, you may be able to get a court order regarding child time sharing and support if you and your spouse are unable to reach an agreement on these issues. Under the Florida Statutes, parents have a legal duty towards their children, both in terms of providing financial support and in taking an active role in their upbringing. Depending on your situation, you may be entitled to request a hearing before a judge, at which a temporary order may be issued, pending any future divorce proceedings.
To discuss the best course of action in your situation, call or contact attorney Vanessa L. Prieto online and request a free consultation in our Fort Lauderdale office today.