Gaining Child Time Sharing Rights through a Paternity Order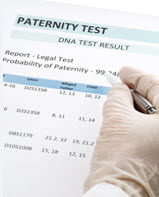 As increasing numbers of children are born out of wedlock, it leaves biological fathers in somewhat of a dilemma. If the mother did not list you on the birth certificate, you will have to go to court to prove you are the child's father. Even if you are listed as being the biological father, simply being named on a birth certificate is not enough to enforce child time sharing rights. Establishing paternity is a good first step, but you will need a paternity order to ensure you remain a part of your child's life, as well as to ensure that the mother does not elect to just up and leave the state with your child, without providing notice or obtaining your consent.
Establishing Paternity In Florida
Under Florida Domestic Relations laws, paternity can be established willingly by the parties simply by signing a voluntary acknowledgement in front of a notary and in the presence of two witnesses. This is assuming the mother goes along with these proceedings and agrees that you are indeed the child's father. Without her cooperation, you would need to pursue proving paternity through the court, where a biological determination will be made based on genetic testing.
The mother can be made to appear in court and can be ordered to submit to a DNA test. This is done via collecting a cotton swab from the cheek area inside the mouth. Samples will be taken from you, the mother, and the child and will be compared for similar DNA markers. This type of test is roughly 99 percent effective in establishing whether or not you are actually the father. Once an official determination is made, you can then use this to contact the Florida Department of Vital Statistics with a request to be listed as the father on the child's birth certificate.
Getting a Paternity Order
Establishing legal paternity offers numerous benefits, both for you as well as for your child. The Florida Department of Revenue (FL DOR) states that by having your name listed on the birth certificate, it entitles your child to the following benefits:
The right to inherit from your estate;
The right to obtain health and life insurance benefits;
The right to Social Security benefits;
The right to Veteran's benefits and military allowances;
The right to financial support.
Unfortunately, establishing paternity is not enough to grant you rights to time sharing, but it does enable you to seek a paternity order through the court. We can file a petition seeking a parenting plan in which you share in parenting time and parental responsibilities. This would also protect you in the event the mother tried to cut off contact or move out of state.
Let Us Help You Today
If you are involved in a paternity dispute or seeking parental rights to your child, reach out and contact attorney Vanessa L. Prieto right away. Our Fort Lauderdale family law attorney can advise you on the best course of action in your particular case. Call or contact us online and request a consultation today.