Is Stalking an Issue In Your Divorce Case? How You Can Put a Stop to It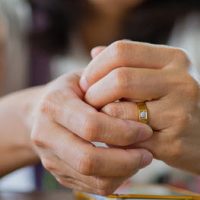 When a marriage breaks up, potentially volatile emotions are often involved. In some cases, it is not uncommon for one of the spouse's to continue to hang onto hope of a reconciliation.  In others, your former partner may begin spying on you, following you to places or trolling you online, looking for information to use against you in your divorce proceedings. When it rises to a level in which your privacy, your safety, or your overall well being is in jeopardy, it can be considered as stalking and there are legal actions you can take to make it stop. 
Florida Stalking Laws
Stalking is listed under the Florida criminal statutes (Section 784.048). It is defined as a course of conduct meant to willfully and maliciously harass, threaten, or intimidate another person, either through verbal or non-verbal actions. Stalking in divorce cases may include:
Appearing at your home or at your school or place of business;
Following you on errands or on outings in public places;
Repeatedly attempting to contact you, either via phone, postal service, email, or text;
Tracking you online, through social media and websites you visit.
According to the National Center for Victims of Crimes, stalking can also include sending unwanted gifts, damaging your property, or establishing websites or starting rumors meant to malign your character. It is potentially dangerous activity that can disrupt your life and make you feel scared, nervous, or depressed. It is often a factor in relationships involving domestic abuse and can progress to actual acts of violence.
Domestic Violence Injunctions Against Stalkers
Stalking is nothing to take lightly, and it is important to notify your divorce attorney and your local law enforcement agency if it occurs during a breakup or during divorce proceedings. Spouses and former partners are not the only targets. Stalking can also impact your children, other family members, and even your friends or dating prospects.
Fortunately, those being targeted by a stalker can request protection through the Florida Courts, either as part of your divorce proceedings or as a separate cause of action. A judge may grant a temporary injunction, pending a more formal hearing. In addition to preventing the offending party from contacting you or appearing at your home or business, a temporary injunction may also provide the following:
Grant you rights to property, children, and spousal or child support;
Require the offender to obtain counseling and treatment services;
Provide directives to law enforcement officials, notifying them of the order and authorizing immediate arrest if the stalking continues.
Reach Out to Us Today for Help
Unfortunately, divorce proceedings can bring out the worst types of behavior in people and can quickly dissolve into situations involving domestic abuse. If your former spouse is following or otherwise harassing you or your children, contact attorney Vanessa L. Prieto right away. Request a free and confidential one on one consultation in our Fort Lauderdale office, to discuss the actions available to help ensure you and your family are protected.
Resource:
victimsofcrime.org/help-for-crime-victims/get-help-bulletins-for-crime-victims/bulletins-for-teens/stalking