Help Your Child Adjust to Time Sharing Arrangements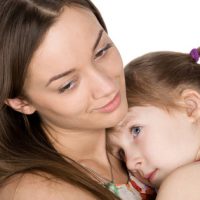 Going through the breakup of their parents' marriage can be traumatic for children, causing them to act out in a variety of ways. At the same time, it is important to bear in mind that continuing to live with two parents who either constantly fight or struggle to suppress their hostility toward one another is not healthy either. Honesty is often the best policy, particularly with older children, and allowing them to voice their concerns can help them feel less out of control. Time sharing arrangements are often one of the major adjustments they will be asked to make, and there are steps you can take as a parent to help them adjust.
Time Sharing that Works for You and Your Child
Under the Florida Statutes, courts generally prefer these days to rely on parenting plans and time sharing arrangements that allow both parents to remain an active participant in their child's lives, rather than awarding full custody to one or the other. In making these arrangements, the court will consider the child's age, the physical distance between each parent's house and the child's school, any special needs the child has, and the each parent's previous relationship with the child and their ability to meet the child's needs.
As a parent, you may want to spend as much time as possible with your child, picking them up after school, having family dinners during the week, and spending the weekends together. While this is understandable, it is also important to consider your child's needs and wants and how these plans could potentially impact them. Particularly with older children who have outside interests and crave independence, you need to factor in their schedule in your time sharing arrangements. Things to consider include:
Academic activities or groups which require them to stay after school;
School-related sports, which typically demand lots of practice time;
Recreational activities they participate in, such as community swim teams or tennis lessons;
Time spent socializing with their friends, either at home, in the neighborhood, or at places such as your local mall;
Downtime, in which they are not required to do anything. With the demands children face, it is important to allow them time on their own to unwind and destress.
Helping Them Through The Adjustment Period
In addition to respect their scheduling needs, experts recommend these tips for helping them as they adjust to their new time sharing arrangements:
Do not complain about the arrangement or bad mouth the other parent in your child's presence.
Remember to put your child's needs first when it comes to last minute changes or modifications.
Be realistic about your own commitments, and avoid the stress that comes with overscheduling.
At the law office of attorney Vanessa L. Prieto, we can advise you in creating time sharing plans that protect your rights as a parent and your relationship with your child. Call or contact our Fort Lauderdale time sharing attorney online and request a consultation to see how we can help you.
Resource:
parents.com/parenting/divorce/coping/9-rules-to-make-joint-child-custody-work/