How Domestic Violence Impacts Teens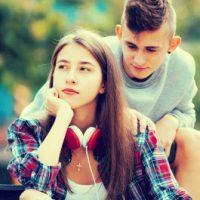 Domestic violence in Fort Lauderdale can take a heavy toll on all family members. Even if altercations involve only you and your spouse, your children can't help but be affected. For those in their teen years, which is already a turbulent time in their lives, their feelings about the situation can trouble them for years after, affecting them as adults. Find out more about domestic violence, how it affects teens, and the steps you can take to ensure to protect yourself and them.
Domestic Violence and Teenagers
Domestic violence may involve physical altercations, such as hitting, punching, and pushing, or it can take the form of put-downs, stalking and harassment, damage to property, and threats or other forms of intimidation. It jeopardizes your health and your safety, destroys your self-esteem, and often leads to feelings of powerlessness, loneliness, and isolation from family and friends.
Unfortunately, these impacts can also affect your children. While younger ones are likely to be clingy as a result and cry more often or find other ways to vocalize their feelings, teens typically internalize theirs. The Whole Child advises that young people between the ages of 13 and 18 often feel overly responsible for the situation, suffering intense guilt and frustration over not being able to put a stop to the abuse or protect the victimized parent. Among the various symptoms they are likely to experience as a result include:
Decreased concentration and focus;
Emotional numbing to the situation and feelings of overwhelming sadness or depression;
Increased anxiety and panic attacks when away from home;
Sleep disturbances, which can manifest as insomnia or wanting to sleep all the time;
Trouble at school, which may include acting out, failing subjects they previously excelled in, or losing interest in extracurricular activities.
As they get older, unresolved feelings about the abuse can manifest into risky behaviors, such as drug and alcohol abuse. They may also find themselves drawn into abusive relationships or becoming abusers themselves.
Protecting Your Teen From Domestic Abuse
As a parent, there are steps you can take to protect yourself and your teen from the devastating effects of domestic violence. Among the most important is acknowledging the situation and getting a restraining order put in place. Through the Florida Courts, you can file a petition for an Injunction for Protection Against Domestic Violence, which can help in the following ways:
Requires the abuser to leave your home;
Prevents them from contacting you in any way;
Restricts their rights regarding custody and visitation with your teen;
Requires them to pay support, check-in with the court regularly, and get counseling and treatment for any anger issues or substance abuse disorders they have.
Reach Out to Us Today for Help 
At the law office of Vanessa L. Prieto, we can guide you in the steps needed to protect yourself and your children against domestic violence. To get the help you need, call or contact Fort Lauderdale domestic violence attorney online and request a confidential consultation today.
Resource:
thewholechild.org/parent-resources/age-13-18/parenting-tips-age-13-18/domestic-violence-impact-on-teens-ages-13-18/