Legal Documents Needed in a Florida Divorce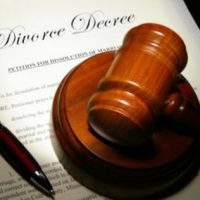 Getting a divorce is a complicated process and there are often numerous issues that must be resolved before your divorce becomes final. Even in less complex cases, it is important to have an experienced Fort Lauderdale divorce attorney on your side to ensure the proper procedures are followed. One of the most confusing aspects for clients concerns the legal documents required to get a divorce in Florida. The following outlines some of what you will need in your divorce case.
Documents in a Simplified Divorce
Under the Florida Statutes, there are two types of divorce: a dissolution of marriage and a simplified dissolution of marriage. In a simplified case, both parties agree to the divorce, they have no children, neither person is requesting alimony, and there are no disputes over the division of property.
While these requirements rule plenty of divorced couples out, there are some for which a simplified divorce may be an option. Documents required for this type of divorce in Florida include:
Petition for Simplified Dissolution of Marriage: This informs the court of you and your spouse's intent in seeking a divorce and provides information, such as names, addresses, and the date you were married. It also asserts that there are no additional issues that need to be resolved.
Settlement Agreement: This details how marital property or assets will be divided by the couple and is submitted to the judge for signing.
While it is possible with a simplified divorce to 'do it yourself' with forms available online through the Florida Courts, you are still advised to consult with an attorney. The procedures for filing court documents, the types of information that need to be provided, and divorce hearing procedures can be confusing to people unfamiliar with the process. Errors and mistakes will only end up costing you both time and money.
Complex and Contested Divorce Cases
If there are children of the marriage, disagreements over how property and assets should be divided, or if you think you may be entitled to alimony, you will need to file additional documents in seeking a dissolution of marriage. These include:
Divorce petition: This will be filed with the court and served on your spouse. It details the circumstances surrounding your marriage and divorce, as well as the actions you are requesting from the court.
Financial affidavit: This is a requirement in contested or complex divorce cases. You and your partner are both required to submit a financial affidavit form detailing your marital and individually owned property, assets, debts, and liabilities.
Parenting Plan: In cases involving children, you will need to detail how child care arrangements will be handled through a parenting plan submitted to the court.
Child Support Worksheet: Income and expenses from both parties will be considered in determining any child support awards.

Contact Us Today for Help
The above are just a few of the legal documents and forms required with getting a divorce in Florida. To discuss filings in your particular case, call or contact our office to schedule a consultation with Fort Lauderdale divorce attorney Vanessa L. Prieto today.
https://www.vanessaprietolaw.com/three-important-issues-in-same-sex-divorce/