Making Sure Parenting Plans In Fort Lauderdale Are Age-Appropriate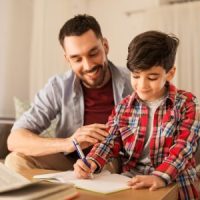 One of the most difficult challenges divorced and single parents face is having to spend time apart from their offspring during their stays with the other parent. As hard as this can be for adults to deal with, it can be even more challenging for the children involved. Creating a parenting plan that makes their needs a top priority as part of your child time sharing arrangements helps in this situation, as does taking the time to ensure it is age-appropriate.
Parenting Plan Arrangements That Factor In Your Child's Age
When parents are divorced or single and living apart, the Florida Statutes generally favor child time-sharing arrangements that allow both to remain active and involved in the child's life. Depending on the circumstances, this generally includes visits during the week and overnight stays on weekends, as well as extended stays over school breaks, holidays, and other special occasions. Details regarding arrangements will be negotiated as part of a parenting plan in Florida.
When creating a plan, parents should carefully consider the age of the child involved. Family Education offers the following tips to ensure arrangements are age appropriate:
For ages two and a half and younger: This is the time when children build strong attachments to the primary caregiver. Each parent should be involved in time-sharing, while avoiding any overly long visits. With young children, keeping to regular sleep and feeding schedules should also be a top priority.
For ages five to three: At these ages, children begin expressing their individuality and have more control over their feelings and bodily functions. While you still need to be mindful of their schedules and should avoid over-tiring them, more extended and overnight visits can be introduced.
For ages eight to six: Children have greater independence from parents, with school schedules and extra-curricular activities now factoring into child time-sharing arrangements. While time spent on visits can be extended, such as for several weeks while on school break, children of this age are also more likely to express homesickness.
For ages 12 to nine: As children this age have a greater focus on friends and social activities, hobbies and extracurricular activities are likely to dominate parenting plan schedules. Each parent should make the effort to support this and be willing to sacrifice some one-on-one time with the child during visits.
For ages 18 to 13: They are also the ages where children are most likely to engage in some type of rebellion, either at home or at school. They may also express a preference for one parent's home. While their wishes should be taken into consideration, it is important to ensure both parents have adequate time for visits and continue to play a role in their lives.
Reach Out to Us Today for Help
Creating parenting plans that work for both you and your child can prove challenging. As an experienced Fort Lauderdale child custody & timesharing attorney, Vanessa L. Prieto is here to help. Call or contact our office online and request a consultation to discuss your options today.
Resource:
flcourts.org/content/download/403367/file/995a.pdf