Myths about Premarital Agreements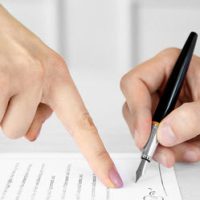 In the flurry of activity involved during an engagement and when making wedding plans, it is important to keep in mind practical matters that have the potential to impact you and your fiance's future. While bringing up the topic of a premarital agreement may seem awkward or decidedly unromantic, the fact is it can help to set a pattern of open communication while ensuring key issues are addressed. The following outlines the truth about prenuptial agreements, which can help to correct any misperceptions you may have.
Premarital Agreement Myths 
Prenuptial agreements often get a bad rap from couples. One or both partners may feel that even initiating a discussion about the topic means they do not trust their partner or are experiencing 'cold feet' about the marriage or their commitment to one another. This is simply not the case. A prenup can an excellent tool for clarifying issues concerning budgeting, financial planning, and estate issues that are likely to come up over the course of your marriage. While deciding to enter into a premarital agreement is a personal choice you and your future spouse need to discuss and agree on together, the American Bar Association advises that the following are three common myths you should be aware of before making a decision:
Myth Number One: A prenup is only for wealthy couples.
Regardless of your income and the amount of assets you possess, a prenup makes good financial sense. It clarifies financial goals and can help you better understand the attitudes your partner has toward issues concerning money. It can also help to protect each of you if you have an expected family inheritance, an ownership interest in a business, pension benefits or children from past relationships.
Myth Number Two: A premarital agreement will strip me of rights in a divorce.
In order to stand up to scrutiny during divorce proceedings, a premarital agreement must be reasonable and fair to both parties. If it unfairly favors one spouse over the other, it could be declared invalid. Under the Florida Statutes, there are issues which cannot be legally addressed in a prenup, including child time sharing and support arrangements. Depending on how it is structured, it can actually help to protect you in the event of a breakup by ensuring you get a fair settlement. 
Myth Number Three: A premarital agreement is only useful in the event you get a divorce.
While premarital agreements do help to protect the financial interests of each spouse in the event of a divorce, that is not the only thing they can accomplish. Your prenup can also address important estate planning issues, such as will, trusts, and instructions regarding end-of-life issues in the event something happens to you or your partner. It can also provide a guideline for the contributions each partner is expected to make during the marriage.
To discuss how a premarital agreement might benefit you and your partner, call or contact attorney Vanessa L. Prieto online and request a consultation in our Fort Lauderdale office today.
Resource:
americanbar.org/content/newsletter/publications/law_trends_news_practice_area_e_newsletter_home/2011_spring/myths_premarital_agreements.html