Preparing Yourself for a No-Fault Divorce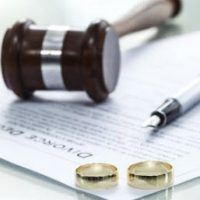 Even if you and your partner have been growing apart for years and are in agreement that your marriage is in fact over, going through the actual divorce process can prove challenging. If you are on relatively amicable terms and there are no significant disputes or disagreements over marital property division, children, or alimony, you may be able to file for a no-fault divorce. While this can be a less time consuming and more cost effective method of dealing with the situation, there are still important issues that need to be acknowledged and steps you need to take to prepare yourself.
Issues in a No-Fault Divorce
Under the Florida divorce statutes, you do not need specific grounds or reasons for wanting to get a divorce. If you have been a legal resident of the state for the previous six months and can attest that your marriage is irretrievably broken and beyond repair, you can complete the process in as little as a few months. However, this is provided that you and your spouse agree on pertinent issues in your case. These include:
Marital property and asset division: All property and assets earned or acquired during your marriage must be split equitably between the spouses. This also includes any debts you may have together.
Spousal support: In cases where one spouse makes more than the other or one needs to reenter the workforce after years of tending to a family, spousal support (otherwise known as alimony) may be in order.
Child time sharing and support: If you and your spouse have children together, you will need to decide on how their time will be divided between each parent's home and whether child support is warranted in the situation.
Even if you and your spouse agree on these matters, you will need to complete a financial affidavit listing all assets and debts, provide proof of income, and complete a parenting plan outlining any time sharing arrangements made.
Preparing Yourself Emotionally for a Divorce
Divorce can wreak havoc with your emotions. As the result of your years together, the life events you went through, and the traditions you created, it is natural to feel a sense of grief during the process or once your divorce is finalized. According to Psychology Today, it is important to acknowledge these feelings and to give yourself time to recover. Ways to help yourself include:
Reach out to family and friends for support;
Rediscover new hobbies and interests;
Realize it may take time to rebuild your finances;
Lower your expectations and resist the urge to be a perfectionist.
Contact Us Today for Help
Even during a no-fault divorce, it is important to have an experienced Fort Lauderdale divorce attorney on your side. At the law firm of attorney Vanessa L. Prieto, we provide the legal guidance you need to guide you through the process. To discuss you case and how we can help you, contact our Fort Lauderdale office and request a confidential consultation today.
Resource:
psychologytoday.com/us/blog/having-sex-wanting-intimacy/201608/4-expert-tips-emotionally-preparing-divorce