Five Reasons to Initiate Paternity Proceedings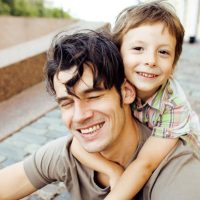 Today, single moms may not have it easy but the stigma is not what it once was and there are numerous support systems in place to help you through the process of raising a child alone. However, while you may not need or want your child's father to be a part of the picture, there are some practical reasons why establishing paternity is a good idea and may be in your child's best interests.
The Benefits of Legal Paternity
According to the Kids Count Data Center, more than 24 million children throughout the United States live in single parent households, representing roughly one third of the population.  There are valid reasons for wanting to raise a child alone, with little to no interaction between you and the father. However, there are equally valid reasons why it is important for both of you to establish paternity.
If the father's name is not listed on your child's birth certificate, it impacts their rights in numerous ways. Under Section 743.10 of the Florida Statutes, this can be amended by filing paternity proceedings, which generally require that a blood test be administered. While the idea of locating the father, undergoing genetic testing, and facing one another in court proceedings may be daunting, it is important to be aware of the possible benefits legal paternity provides:
The child's father can be listed on the birth certificate.
Not having this section filed out may seem like no big deal, but it is an obvious blank space which may haunt your child as they grow older. Even if they do not regularly see the father, having him listed on the birth certificate confirms he exists.
Allows child support to be ordered and enforced.
While you may be perfectly capable of providing financially for your child, this is money they are entitled to and which the father is obligated to pay. It can be used to give your child the best possible start in life and to ensure future expenses are paid.
3. It may entitle them to insurance benefits.
Once paternity is established and the court considers child support, the father may be required to list the child on any health or life insurance policies they have. 
May allow your child to receive military or social security benefits.
If the father eventually dies or becomes disabled, your child may be entitled to social security benefits. If the father is a member of the military, your child may be eligible for benefits which can help them in obtaining college grants or loans, as well as with housing.
Protects inheritance rights.
In the event the father does pass away, being named on the birth certificate gives your child inheritance rights. This allows them to claim a portion of any assets or property in the father's estate.
Let Us Help You Today
At the law firm of attorney Vanessa L. Prieto, we can address concerns you have regarding paternity while taking the legal actions needed to ensure you and your child are protected. Contact our Fort Lauderdale paternity attorney and request a confidential consultation to discuss your situation today.
Resource:
datacenter.kidscount.org/data/tables/106-children-in-single-parent-families#detailed/1/any/false/871,870,573,869,36,868,867,133,38,35/any/429,430