Rights and Responsibilities of Unmarried Fathers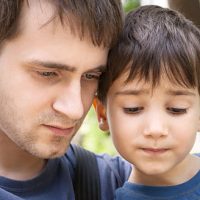 Becoming a father is a life changing event, one that causes you to look at yourself and the world around you differently. Before your baby was born you may have been primarily interested in pursuing your own hobbies and interests, but once you hold your little one in your arms, your priorities are likely to shift. Making sure they have the love and support they need remains a primary concern throughout your child's life, regardless of the circumstances under which they were brought into the world or the relationship you have with their mother.
If you are an unmarried father in Florida, it is vitally important to establish legal paternity in regards to your child. Doing so not only protects your rights, but ensures your child will receive the support and benefits they are entitled to, both now and in the years to come.
Protecting Your Rights Through Legal Paternity
When married couples have children, the father's paternity is assumed and established right there in the hospital, without having to take any type of legal action. For unmarried men, while they may be the biological father of the child, they have little to no legal rights when it comes to such matters such as being allowed visitation, having a say in how their child is raised, or even in situations in which the birth mother chooses to give the child up for adoption. Under section 63.053 of the Florida State Statutes, the interests of the mother, the child, and the potential adoptive parents outweigh the interests of an unmarried father, unless he has taken the steps to establish legal paternity.

Establishing Paternity
In addition to giving fathers no rights or say in what happens in the life of their children, failure to establish legal paternity also means that the child would not be eligible to receive any government benefits that the son or daughter of a legal father is normally entitled to receive. This includes veterans or Social Security benefits, being named on health insurance policies, or having inheritance rights to any portion of you or your family's estate.
According to the Florida Department of Revenue, there are three basic ways in which legal paternity may be established for unmarried fathers:
By marriage, if the father eventually marries the mother;
Voluntarily, if both parents willingly sign legal documents acknowledging paternity;
Through a judge's paternity order issued in court order.
As part of establishing legal paternity, genetic testing may be required. This is done through a simple process of collecting skin cells with a cotton swab inserted in the mouth and swiped against the inside cheek. Genetic samples are collected and compared from the mother, the father and the child, and the results can indicate the probability of paternity by 99.997 percent.
Reach Out to Us for Assistance
If you are an unmarried father and are concerned about your rights to your child, contact our experienced Florida paternity attorney  today. At the Vanessa L. Prieto Law Offices, LLC, we can help guide you through the process of establishing legal paternity, while advising you on your rights and obligations in terms of child support and time sharing. We serve Ft. Lauderdale and the surrounding areas; call or contact our office online today for a confidential case consultation.
Resources:
leg.state.fl.us/Statutes/index.cfm?App_mode=Display_Statute&Search_String=&URL=0000-0099/0063/Sections/0063.053.html
floridarevenue.com/childsupport/Pages/paternity.aspx