Single Parent Tips for Child Time-Sharing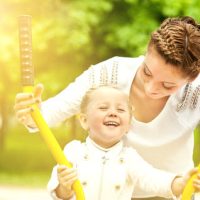 For single parents, putting personal feelings aside in order to raise children together can be challenging. While child time sharing arrangements can allow both of you to play an active and engaged role in your child's life, it takes some effort on everyone's part to make it work. The following are tips to help you through the process.
Co-Parenting Arrangements in Florida
One of the first steps for single parents in terms of making arrangements regarding their child is to establish legal paternity. The Florida Department of Revenue advises that this can be accomplished either through their offices or by obtaining a court order through a judge. Once established, you can return to court to negotiate time sharing arrangements. Issues to consider include:
How legal decision making authority is divided in matters affecting the child, such as concerning their education, religious upbringing, and medical care.
Whether the child will live with one parent while the other has visitation, or whether time will be divided evenly between both parents.
The amount of participation each parent will have in the child's school, recreational, and social activities.
Arrangements for school breaks, holidays, and special occasions.
Third party visitation, regarding friends and family members.
Arrangements for pick-up and drop off after visits with each parent.
The more detailed these arrangements, the more everyone will be clear in their role and the less likely disputes will arise.
Making Time Sharing Arrangements Work for Single Parents
Single parents face unique challenges in raising children together. However, these are often no different than the challenges married couples face. Keep in mind that just because your relationship did not work out, the other person can still be a good parent to your child. Following these tips from LiveAbout can help everyone adjust to the situation:
Stick with the schedule. Follow the parenting plan as it is written, and make every effort to be on time and to not cancel visits. If something does come up, let the other parent know as early as possible.
Keep a regular routine. Consult with the other parent about your child's needs and issues such as dietary restrictions and sleep schedules. Avoid making plans that conflict with the child's or other parent's schedule.
Avoid bad mouthing or being hostile to your ex. Being cordial and polite with one another will make the process of co-parenting easier, and will benefit your child in the long run. Avoid bad mouthing the other parent in front of the child. If you have an issue to discuss, do so in private and be respectful in your communications.
Generate goodwill. Being considerate, flexible, and putting your child's needs first will generate goodwill and make it easier to get along with the other parent.
Contact Us Today for Help
Our Fort Lauderdale child time-sharing attorney can help in making arrangements that protect your rights as a parent, along with the best interests of both you and your child. Contact attorney Vanessa L. Prieto today and request a consultation to see how we can assist you in your case.
Resource:
liveabout.com/parent-child-visitation-tips-2998177