Four Things to Include In Your Premarital Agreement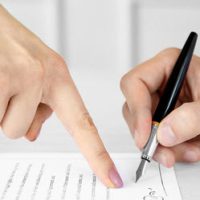 While happily engaged couples may balk at the notion that they would ever actually need a prenuptial agreement, the fact is these documents important issues relevant to your marriage. While it is true that they can be crucial to defending your rights to property and assets in the event of a divorce, the fact is they can also protect you both over the course of your life together.
Make Sure These Four Areas Are Covered in Your Prenup
Under the Florida Premarital Agreement Act, a prenup is a legal contract between two spouses that goes into effect the day they are officially wed. Under the statutes, there are generally included stipulations regarding the rights and obligations of each spouse concerning property and assets accumulated over the course of the marriage, as well as how this marital property will be divided in the event of a divorce. You or your spouse can waive the rights to any alimony as part of any subsequent divorce agreement, but prenuptial agreements may not include any stipulations regarding time sharing or support for children of the marriage.
Nobody anticipates getting divorced, but the fact is that nearly half of all marriages do eventually fail. Even if this is not something that ever impacts you and your spouse, going through the process of creating a prenup can help to open lines of communications and clarify issues you may not have thought to discuss. Four important issues to cover include:
Estate planning: A prenuptial agreement does not take the place of a will or other estate planning documents, but it can help to clarify your intentions. This can be particularly important for young couples, who may not have done any advance planning, along with people who have been previously married.
Financial goals: Money is one of the major issues couples tend to fight over. A prenuptial agreement gives you the chance to discuss your financial goals and the manner of living each of you expects to enjoy during the marriage.
Business interests: If you are involved in a partnership or family business, be aware that contributions of your spouse, in terms of time, money, or ideas, could entitle them to a portion in the event of a breakup. To protect family or partners, detail rights in your prenup.
Personal debts and assets: As a result of your previously single lives, there are likely individual debts and assets you and your spouse will be bringing into the marriage. According to Business Insider, the opportunity to create an inventory and discussing attitudes and feelings about any inequalities up front is one of the major benefits a prenuptial agreements offers to couples.
Let Us Help You with Your Case
As an experienced Fort Lauderdale prenuptial agreement attorney, we can answer your questions and address any questions you may have about these types of contracts. Contact attorney Vanessa L. Prieto and request a consultation to discuss your situation today.
Resource:
businessinsider.com/what-should-i-include-in-a-prenup-2016-4