Telling People About Your Divorce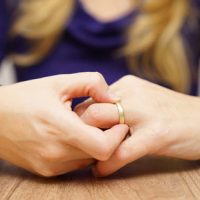 Going through the breakup of a marriage is one of the most stressful times in a person's life. Separation and divorce often changes the dynamic in relationships with family and friends, and it is natural to feel anxious about letting others know what is happening in your life. While making the decision about how to share the news of your divorce depends on the factors involved in your own unique situation, the following provides some general information on who needs to know and when.

Who Needs to Know About Your Divorce?

If you have children, they need to be among the first to know about your divorce, followed closely by your immediate family. In terms of others you may wish to consider notifying, experts recommend the following:
Friends: Odds are, you may have a best friend who already knows, but what about the couple's you hang out with or see in social functions? Depending on how often you see them, you may wish to call them in person to let them know, particularly before they have a chance to hear it from others.
Employers and Co-Workers: Again, your closest co-worker may already be aware of problems in your marriage, but for the most part, you want to keep your personal and professional life separate. It is often a good idea to let your boss know of the situation, as you may need to take a day off here or there while your divorce is finalized and you adjust to your new situation.
Your Child's Teacher: If you have children, it is a good idea to let their teacher or child care provider know. These people can help ease the transition, putting any bad behaviors or changes in routine into perspective while alerting you to signs of how your child is adjusting.
Announcing Your Divorce on Social Media
With the popularity of sites such as Facebook and Twitter, many people make the decision to announce their divorce over social media. While you should let the people closest to you know in person, the Huffington Post states that sharing news with social media friends and followers has the following advantages:
It lets people know what you are going through;
It provides a good way of getting lots of support;
It can make you feel more confident, and makes the situation more real.
If you do share the news of your divorce online, take the high road and avoid bad mouthing your spouse. Not only does this make the situation awkward, but personal information you put out there could complicate your divorce proceedings.
We Are Prepared to Help You Today
If you are going through a separation or considering filing for divorce, our Florida divorce attorney is here to help. Contact the Vanessa L. Prieto Law Offices, LLC  to get the professional legal assistance you need to answer your questions and address your concerns.
Resource:
huffingtonpost.com/laura-robinson/5-reasons-why-i-announced_b_6429882.html