Tips For Summer Parenting and Timesharing Plans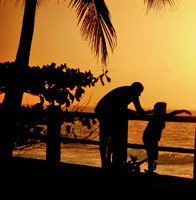 Now is the time to consider how your child will be spending their summer vacations. If you currently have a parenting plan and timesharing agreement in place, you may want to review your arrangements with your attorney while considering how to approach making any necessary adjustments. If you are currently going through a divorce or separation and you do not have an agreement in place, there are some issues you can address now to help ensure the summer months go smoothly for you and your child.
Summer Time Sharing Plans 
Under Section 61.13 of the Florida Statutes, parenting plans and timesharing arrangements should allow each parent to have frequent and continuing contact with their child. This applies not only during the school year, but also over summer vacation.
In dividing parental responsibility, the court will consider the needs of the child, their maturity, and the educational, social, and recreational activities they are engaged in, as well as the ability of the parents to meet those needs. In addition to regular, weekly contact, the plan will address the division of time the child spends with each parent over holidays, special occasions, and over the summer school vacation period. Factors to consider in making these arrangements include:
The ability of each parent to provide for the child's needs;
The amount of supervision your child requires at their particular age;
The distance between each parent's home;
Availability of resources and services available at each location, such as parks and sports or recreational programs;
The stated wishes and desires of the child involved.
Tips for Summer Parenting Plans
When considering where and how your child will spend their summer school vacation, one of your first steps is to consult with their actual school schedule. While Broward County schools follow a traditional schedule giving students off from mid-June to mid-August, other areas offer a more limited summer break. Check the actual dates before making any plans, and follow these tips to ensure both you and your child's needs are provided for:
Decide whether your child will need day care or supervision, and make plans early as programs tend to fill fast;
Look into any summer day camps or recreational programs your community offers;
Evaluate how flexible your week schedule is, and what time off you will be able to take;
Consider whether your child might benefit from spending added time with extended family, such as grandparents or cousins;
Make tentative summer vacation plans early and discuss your plans with your attorney before making reservations.
Reach Out to Us Today for Help
For help in establishing a parenting plan or to modify an existing timesharing agreement, contact the Vanessa L. Prieto Law Offices, LLC  today. We provide the professional legal representation you need in these types of matters, while acting as a strong legal advocate to ensure your rights as a parent are protected.
Resource:
browardschools.com/calendars