Warning Signs Your Marriage Is Headed Towards Divorce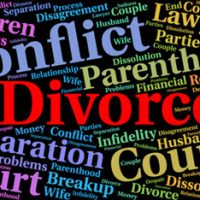 The breakup of a marriage is always painful, even if both partners agree that it is over. When one spouse surprises the other by either moving out or filing for divorce, it can be devastating. Unfortunately, signs that a marriage is in trouble are often easy to spot in retrospect, but may go unnoticed amidst the pressures of daily life. The following outlines some of the warning signs that your spouse may be contemplating divorce, as well as indicators in your own feelings that your marriage is in trouble.
Signs Your Spouse May Be Contemplating Divorce

The American Psychological Association estimates that roughly 40 to 50 percent of marriage in the U.S. end up in divorce, and this rate jumps even higher for second or third marriages. Some marriages fail due to dramatic events, such as adultery, domestic abuse, or alcohol and drug addiction on the part of one of the spouses. Others end as couples grow apart over the years, or face issues that seem impossible to resolve. Unfortunately, being unaware of problems in your marriage or actions your spouse may be taking in anticipation of announcing their intent to file for divorce can leave you vulnerable, both emotionally and financially. Signs your spouse may be contemplating a divorce include:
Withdrawn behavior or acting preoccupied;
Making harsh, critical comments;
Not coming home at the usual time;
Making excuses to avoid spending time together;
Opening a separate bank account or credit card;
Avoiding gatherings with your family;
Decreased sexual desire;
Increased alcohol use;
Being unwilling to discuss problems in the marriage;
Refusing to make plans for the future.
Signs of Unhappiness in Your Marriage
In some cases, it is not so much what your spouse is doing as it is your own actions, thoughts, and feelings that indicate your marriage may be in trouble. Health Central lists the following as warning signs that you are no longer happy in your relationship:
Increased awareness and irritation at your partner's shortcomings;
Constant fights and bickering;
Feeling like you are giving too much to the relationship without getting much in return;
The desire to change them or the patterns in your relationship;
Fantasizing about other people or what it would be like to be single again;
Feeling increasingly depressed or resentful;
Feelings of low self-esteem, or not liking the person you are in the relationship.
The actions and behaviors of other people can also be a warning sign as well. Children who are acting out or doing poorly at school, concerned relatives, and awkward relations with formerly close friends could all indicate that others are picking up on problems in the marriage that you may have grown resigned to or are overlooking.
Our Florida Divorce Attorney Can Help You Today
If you are contemplating a separation or divorce, contact the Vanessa L. Prieto Law Offices, LLC  today. Our experienced Florida divorce attorney acts as a trusted resource in whatever situation you are currently facing with your spouse, helping to ensure your rights and interests are protected.
Resources:
healthcentral.com/sexual-health/c/1443/160406/signs-heading-divorce/
apa.org/topics/divorce/