When Time Sharing Plans Require Supervised Parenting Time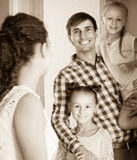 When parents who are either divorced or unmarried are involved in disputes over raising their children, the court generally elects the use of parenting plans and time sharing. This helps to ensure both the mother and the father have an equal opportunity to share in the duties and the joys of child rearing, and that the child benefits from the opportunity to establish a loving bond with each.
Unfortunately, there are cases in which it is not in the best interests of the child to have extended contact or to be left alone with one of the parents for even a minimal amount of time. Supervised visitation is often used in these situations, which allows the parent to continue to see their child while addressing their own issues, and ensures the child's well being and safety are protected.
Florida's Supervised Parenting Program
Under Section 753.01 of the Florida Statutes, a supervised parenting or visitation program is one that offers structured contact between a child and a parent or caregiver. A third person, one generally approved by the court, is present as a monitor in these meetings, to ensure the child's safety and to observe the interaction. Supervised parenting is generally used in cases involving domestic violence, abuse, or negligent, as well as in situations in which a parent's alcohol or drug abuse or criminal activity has been determined to be a detrimental influence on the child.
Florida State University, in training those who monitor supervised visitation sessions through its College of Social Work, advises that there are over 40 different supervised programs operating in each of the state's judicial circuits. In addition to protecting the child and any other family members, these programs also serve the following purpose:
Enables an ongoing relationship between the parent and the child;
Helps facilitate appropriate parent/child interactions;
Provides written, factual information to the court regarding observations during the visits;
Helps to facilitate reunification and unsupervised parenting time, where appropriate.

When Supervised Contact Is Ordered
Within the Florida framework outlined by FSU, there are a variety of circumstances in which supervised contact may be ordered. These include:
One on one supervision with the parent and child;
Supervision in a support or educational group;
Therapeutic supervision, designed to directly address issues;
Monitored telephone contact;
Monitored exchanges, such as during court hearings and other proceedings.
Monitors are also trained in responding to any emotional issues which are common either before, after, or during the visit. This may include fear and confusion on the part of the child, apprehension on the part of the primary caregiver, and any anger or frustration expressed by the parent subject to supervision.
Concerned About Your Children?
If you have concerns about your child's safety when they are with their other parent, contact the Law Offices of Vanessa L. Prieto right away. As an experienced Florida child custody attorney, we can file the necessary legal documents to help ensure that your family is protected. Call or contact our Fort Lauderdale office online today to request a free consultation to see how we can help.
Resource:
training.familyvio.csw.fsu.edu/manuals/flsvtraining/print/ch2.pdf