When To Get A Postnuptial Agreement In Fort Lauderdale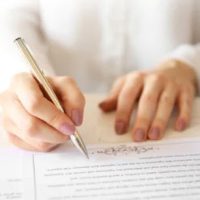 Prenuptial and postnuptial agreements in Florida serve a valuable purpose. They help to protect your rights in the event of a divorce, but are capable of achieving so much more. Find out about the benefits and when to consider getting a 'postnup' in Fort Lauderdale.
The Difference Between A Pre and Postnuptial Agreement 
Rights and requirements regarding prenuptial agreements are spelled out under Section 61.079 of the Florida Statutes. It generally dictates the conditions under which a prenup can be entered into, the rights of each party, what cannot be included in these agreements, and provisions in the event of death, incapacity, or divorce.
All of these provisions apply to postnuptial agreements as well. The main difference between the two is implied by the names. A prenuptial agreement is a legal contract you enter into prior to getting married, while a postnuptial agreement is entered into once you have already said, "I do." Common benefits of each include:
Encourages open communication about money matters, one of the topics couples fight about most;
Provides full disclosure of all marital and premarital assets and debts;
Dictates each party's rights in a variety of situations;
Clarifies attitudes regarding money and goals in terms of the lifestyle each party hopes to enjoy.
Situations That Call For Creating A Postnuptial Agreement 
Like a prenup, a postnuptial agreement is a legally binding contract. It can impact your rights in the event of a divorce, as well as in Broward County Probate Court proceedings. Situations that call for creating one include:
You or your spouse start a business: In this situation, a prenuptial agreement can clarify ownership and responsibility for business debts.
You come into an inheritance: When inheriting money, real estate, or antiques and other property from your family, a postnup helps to preserve it for future generations.
You never created a prenuptial agreement or need to change it: Not having a prenup is reason enough for creating a postnuptial agreement. This is particularly true if you were married in the past and have children from that relationship. In this type of case, a postnuptial agreement helps to protect their rights as well. Even if you currently have a pre or postnup in place, creating a new one can allow for important changes.
You are currently or previously experienced problems in your marriage: If your spouse is guilty of marital misconduct, such as having affairs or struggling with addictions, or you are otherwise having problems in your marriage, a postnuptial agreement helps ensure your rights are protected. It also protects you if you reconcile and can spell out what you are entitled to if you end up getting a divorce at a later date.
Discuss Your Options With Our Fort Lauderdale Pre and Postnuptial Agreement Lawyer
As an experienced Fort Lauderdale family lawyer, Vanessa L. Prieto provides the trusted legal guidance you need to ensure your rights are protected. To discuss your options, call or contact our office online and request a consultation today.
Sources:
flcourts.gov/content/download/403225/file/980a.pdf
browardclerk.org/Divisions/ProbateAndGuardianship