Benefits Of Adopting Older Stepchildren And Adults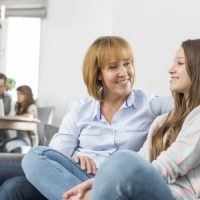 Adoption is one of the most heartwarming events in the family courts. If you are raising stepchildren that are either older or full-grown adults, you may think taking this step is just a formality, but it does provide important benefits. Our Fort Lauderdale family law attorney explains some of the protections it offers stepparents and the adult or child involved.
What Is Involved In A Stepparent Adoption?
When people think of adoption, they often associate it with small children and couples who go through either public or private agencies to fulfill their dream of becoming parents. In reality, these proceedings are just as likely to involve blended families. The process is also generally easier.
While there are still legal requirements under the Florida Statutes that must be followed and court proceedings to attend, you can generally avoid dealing with social workers and undergoing home visits or counseling sessions, particularly if an older child or adult is involved. The process is generally streamlined to just a few steps:
If the child is under the age of 18: If the step-parent is married to one of the birth parents and is living with the child, the court considers them as acting in a parenting capacity. They will still need to file an adoption petition and both birth parents will need to give their consent. However, if the non-custodial parent is out of the picture and has not seen the child in years, it may be considered abandonment and their rights can automatically be terminated. It can take several court hearings to accomplish this.
If the child is over the age of 18: Provided both the adult child and the parent married to the adoptive step-parent consent, an adult adoption can generally be concluded in a single court hearing the same day that your petition is filed with the court.
The Benefits of Adopting An Older or Adult Stepchild
For both step-parents and step-children of any age, going through the process of adoption through the Broward County Family Court can help to cement the bond they have with each other. Being able to claim a legal parent/child relationship can also provide some important legal benefits. These include:
For estate planning purposes, a legal adoption entitles the step-child and the step-parent to the same rights as any other heirs;
A stepparent adoption provides both parties with access to family benefits available through the Social Security and Veteran's Administrations;
Legal adoption gives both parties rights when dealing with medical providers in emergency situations;
If the step-child is a minor and the parents get divorced, a legal adoption ensures the stepparent parent has the right to be included in child time-sharing arrangements through the court.
Let Us Help You Today
At the law office of Vanessa L. Prieto, we are dedicated to protecting the rights of both parents and their children. To discuss your options in regards to stepparent adoptions, reach out and contact our Fort Lauderdale family law attorney today and request a consultation.