Frequently Asked Questions About Alimony In Fort Lauderdale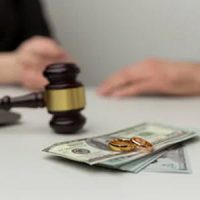 Spousal support and maintenance, otherwise known as alimony in divorce, may be awarded as part of your final divorce order and in addition to any marital property and assets or child support you are entitled to. Alimony helps to ensure each spouse is able to maintain the same standard of living as they did during the marriage. As an experienced Fort Lauderdale divorce attorney, alimony is a common concern among clients and the following are among the most frequently asked questions:
When Is Spousal Support Awarded? 
Under the Florida Statutes, alimony may be awarded in divorce cases where one spouse makes considerably less than the other or sacrificed their own career or education for the sake of the marriage.
How Long Do You Need To Be Married To Get Alimony? 
While the judge in your case has discretion in when to award alimony, it is generally not granted in cases of short term marriages lasting seven years or less.
Can Husbands Get Spousal Support In Florida? 
Alimony is based on circumstances in the marriage and information about income provided through financial disclosures. In the past, women made far less than men and often opted to quit their careers to support their husbands and care for children from the marriage. Today, women are just as likely to be the main breadwinner, making their husbands equally eligible for alimony.
How Long Am I Entitled To Receive Alimony? 
There are different types of alimony that may be awarded through the Broward County Family Court in divorce proceedings. Rehabilitative and bridge-the-gap alimony is designed to help the recipient gain the education or experience needed to reenter the workforce and is generally awarded on a temporary basis. Durational alimony generally covers a longer period of time.
Can I Be Disqualified From Receiving Alimony?
Fault grounds are not required to get a divorce in Fort Lauderdale but they can be a factor in determining whether one of the spouse's is entitled to alimony. For example, engaging in adultery or abusive behavior could make you ineligible. Alimony will also be terminated in the event you remarry.
What If My Spouse Refuses To Pay? 
Alimony is awarded via a court order, which means your former spouse is legally obligated to pay. If they fail to do so, they can be held in contempt of court, resulting in fines and other penalties. They could also be subject to enforcement efforts, including wage garnishment and seizure of funds in bank accounts, tax refunds, and other benefits.
Reach Out to Us Today for Help
Alimony can make a major difference in your financial recovery after a divorce. To ensure you get the amount you are entitled to, get the law office of Vanessa L. Prieto on your side. We can review the circumstances surrounding your case and the options available in terms of the type of alimony award. To request a consultation, give us a call or contact our Fort Lauderdale alimony attorney online today.