Books That Can Help Explain Divorce To Small Children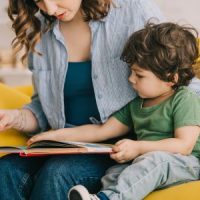 If you are a parent and are considering filing for divorce in Fort Lauderdale, one of your biggest concerns is likely to be the impact it will have on your children. Divorce can significantly alter your way of life. Our Fort Lauderdale divorce lawyer guides you through these proceedings and protects your rights while successfully resolving child time-sharing, property division, and other important matters.
However, you will still need to determine how to tell your child and deal with any fallout that results. If you have small children, books can be an important tool in helping them better understand and adjust to the situation.
How Much Should I Tell Small Children About Divorce?
If your marriage is in trouble and you are considering a separation or divorce, your children are already aware of problems. There may have been fights or a general sense of tension in the home. In either case, it is important to let them know what is going on.
Telling children about divorce should be done in an age-appropriate manner. Today's Parents offers a guide that is age specific. With small children, we recommend following these tips:
Stick to the basics: Rather than trying to explain problems in your marriage, simply tell small children that you will be living apart for a while.
Give practical details: Explain who is leaving, where they will live now, and how much time the child will get to spend with them.
Provide reassurance: Assert it is not their fault, assure them they matter and will continue to be provided for, and emphasize that both you and the other parent care that their needs are met.
Children's Books That Help Explain Divorce
Even with a simple explanation, small children are likely to be confused and may act out for a while. They may regress and engage in behaviors such as thumb sucking, demanding a pacifier, or wanting to sleep in your bed. This will eventually pass. One way to help them during this time is by reading to them.
Small children love story time. Books can help them understand the situation and feel more secure in themselves. Parent's Magazine recommends a variety of titles to get you started, which include:
Dinosaurs Divorce by Laurene Krasny Brown and Marc Brown: This explains divorce and its impacts from the perspective of a dinosaur family.
It's Not Your Fault, Koko Bear by Vicki Lansky: A bear cub experiences and resolves a range of emotions in response to the divorce of his parents.
Two Homes by Claire Masurel: This explains the complicated issue of child time-sharing in a way small children can understand.
Our Fort Lauderdale Divorce Lawyer Is Here To Help
Dealing with a divorce is difficult, particularly if you have small children. Fort Lauderdale divorce lawyer Vanessa L. Prieto is here to help. We provide caring support and professional legal representation, resolving important issues that can affect you and your child. To discuss your options, call or contact us online and request a consultation.
Sources:
todaysparent.com/family/kids-and-divorce-an-age-by-age-guide/
parents.com/parenting/divorce/children/books-that-help-explain-divorce-to-kids/