Can You Still Live Together While Going Through A Divorce In Fort Lauderdale?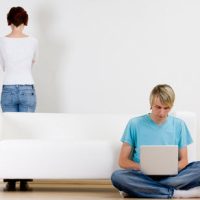 When dealing with difficulties in your marriage, spending time away from your spouse can provide perspective on the situation. However, maintaining a separation may prove challenging financially and for other reasons. If you decide to file for divorce, can you still live with your spouse throughout the process? Our Fort Lauderdale divorce lawyer explains why this often arises and the common problems you are likely to encounter.
Why You Might Want To Live With Your Spouse During Fort Lauderdale Divorce Proceedings
If you are considering filing for a divorce in Fort Lauderdale, one of the first steps is ensuring you meet legal requirements. Under the Florida Statutes, you do not need fault grounds to file a divorce petition. However, you do need to be a resident of the state for at least six months prior and be living separately and apart from your spouse.
This typically means maintaining separate residences. However, in some situations, it is simply not practical. You can continue to live with your spouse while meeting the technical requirements for a separation. You will need to maintain separate living quarters and finances while refraining from eating or engaging in other activities together. Reasons why couples might want to consider this as an option include:
Each party refuses to relinquish possession of the home;
You cannot afford to maintain separate residences;
It makes it easier to care for small children;
You have religious or other reasons for not wanting to publicly separate from your spouse.
Problems You May Encounter If You Continue Living With Your Spouse
Maintaining physical, emotional, and financial distance are challenges you are likely to face if you keep living with your spouse while getting a divorce in Fort Lauderdale. Unfortunately, not setting clear boundaries can impact your mental health and your rights in obtaining a final divorce order.
Even if you are successful and meet the legal requirements, there are still other problems you are likely to encounter. According to Psychology Today, the most common include:
Disputes over money: Having clear expectations and a written agreement dictating what each party will contribute to the home can help avoid potential problems.
Protecting privacy: Sharing time, space, and resources in the home can make it difficult to get any privacy, which is important for recovering from divorce and determining the next steps in your life.
Resolving disputes: Disagreements are sure to arise in this situation, and you should discuss in advance how to resolve them.
New relationships: Once your divorce is final, you are free to begin dating. This is an important step in the divorce recovery process, which living with your former spouse makes more complex.
Request A Consultation With Our Fort Lauderdale Divorce Lawyer
If you are considering a divorce in Fort Lauderdale, you likely have numerous questions and concerns about the process and how you can best handle the situation. Request a consultation with our Fort Lauderdale divorce lawyer to discuss the options available. Call or contact the law office of Vanessa L. Prieto online today.
Sources:
leg.state.fl.us/statutes/index.cfm?App_mode=Display_Statute&URL=0000-0099/0061/0061.html
psychologytoday.com/us/blog/rediscovering-love/202104/divorced-still-living-together