Challenging a Prenuptial Agreement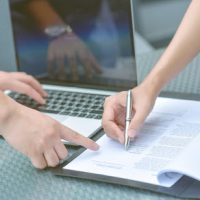 In the event of a divorce or the death of one of the spouses, a prenuptial agreement specifies how property and assets are to be divided. As a legal document, a prenup can be useful in protecting the financial security of other family members and preserving the rights of certain beneficiaries, such as children from previous marriages. While it is meant to help prevent disputes, a prenuptial agreement itself can be the subject of arguments, particularly if it does not meet legal requirements.
Alan Thicke Prenup Controversy
With clients who are extremely wealthy or famous, problems with prenuptial agreements can end up making headlines. A recent example involves the estate of the late actor Robin Thicke, whose third wife and his children are involved in a contentious battle, being held both in the courts as well as in the tabloids.
A report earlier in 2017 by the Miami Herald claims that Tanya Callau, a former model who met Thicke in Florida and married him in 2005, is expected to receive several million dollars through a prenuptial agreement in the aftermath of his death, which occurred a year ago in December 2016.  She is now claiming the prenuptial agreement is invalid, for unstated reasons, therefore entitling her to a greater share of his estate. Alan Thicke's three sons, which includes singer Robin Thicke, have filed a petition asking the court to uphold the agreement, sparking a fierce battle that has been making tabloid headlines.
Contesting a Prenuptial Agreement
Whether Thicke's wife will be successful in overturning the prenuptial agreement will depend on the facts of the case and the circumstances under which the prenuptial agreement was created. Forbes advises that there are generally five reasons under which a prenuptial agreement can be successfully contested:
If the agreement is a fraud. If one of the parties was misled into signing an agreement in which assets were undisclosed or valued at significantly less than what they are actually worth, the agreement could be considered invalid due to fraud.
The agreement was signed under duress or coercion. If one of the parties felt coerced or pressured into signing, either by the circumstances involved, by their partner, or the attorneys involved, it can be declared invalid.
If the proper procedures were not followed. As a legal document, guidelines for creating and filing a prenuptial agreement can be found under Section 61.079 of the Florida Statutes. Failure to follow these guidelines could result in a prenuptial agreement being declared invalid.
The agreement unreasonably favors one of the parties. If an agreement is grossly unfair in restricting the rights of one of the parties, it can be declared unconscionable and invalid under the law.
If there was a lack of legal representation. If you were not afforded the right to consult with an attorney prior to signing a prenuptial agreement and did not understand the potential impact of what you were signing, you may be entitled to contest the prenup.
For questions about creating or challenging a prenuptial agreement, call or contact attorney Vanessa L. Prieto online today. We can arrange a consultation in our Fort Lauderdale office, to help ensure your rights are protected.
Resources:
miamiherald.com/entertainment/celebrities/article151121482.html
forbes.com/sites/jefflanders/2013/04/02/five-reasons-your-prenup-might-be-invalid/#34b3e76719a5