Co-Parenting App Aims at Making Time-Sharing Plans More Effective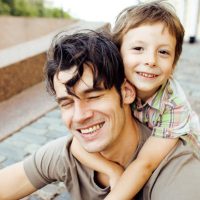 In the aftermath of a breakup or a divorce involving children, coordinating time-sharing and communicating with your ex can be a challenge. A new app on the market promises to help make these tasks easier, while allowing you to track information that could prove important in developing parenting plans. Designed by a Jacksonville father and endorsed by a Hollywood actress, it offers smartphone uses an innovative way to take a more active and engaged role in co-parenting.
The Family Advocacy Your Responsibility (FAYR) App
An October 2017 News4Jax report highlighted a recent innovation created by a Florida man who wanted to become more involved in helping to co-parent his children. After going through often contentious divorce and time sharing proceedings with his former spouse, Michael Daniels of Jacksonville thought there must be a better way to ease communications while documenting important evidence relating to co-parenting arrangements. He developed the Family Advocacy Your Responsibility (FAYR) smartphone application to address four key areas:
A time sharing calendar, which allows parents to organize their schedules, while adding and monitoring activities related to their child.
A messaging feature, which allows for more convenient and effective communications while documenting previous exchanges.
An expense feature, which allows both parents to document, categorize, and monitor notes regarding expenditures and receipts from purchases.
A geo-location tracker, which provides a record of check in times at various locations that can be used to substantiate testimony in court.
The app claims to help parents streamline the multiple issues associated with co-parenting, while providing proof that they are fulfilling court requirements. FAYR was recently endorsed by actress Gwyneth Paltrow, herself a divorced parent, who now acts as an advisor in helping to modify and grow the app to reach a broader audience.
Documenting Evidence in Child Time-sharing Proceedings
Documenting evidence of financial support and showing you play an active role in your child's life is extremely important in time sharing proceedings. Under the Florida Statutes, this will likely influence your parenting plan, and any future orders or modifications that are made. Whether or not you use the FAYR app, you should begin collecting information early in your case and keep a backup file of any documents, notes, and receipts for purchases and costs you have paid. Be sure to include the following:
Health insurance premiums paid;
Educational or recreational expenses;
Details on visits with your child, including the time, date, duration, and what you did together, along with missed visits that were prearranged;
Details on drop off and pick up arrangements for your child, including the time the other parent arrived, the appearance of the child, and what they brought with them.
To help ensure any information you gather is admissible in court, call or contact the Vanessa L. Prieto Law Offices, LLC online and request a consultation with our Fort Lauderdale time-sharing attorney today. We can provide the professional representation you need to help ensure both you and your child's best interests are protected.
Resource:
https://www.news4jax.com/news/father-creates-fayr-app-to-help-families-coping-with-divorce