Dating And Divorce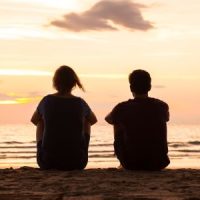 Getting a divorce in Fort Lauderdale means closing an important chapter in your life. Dating involves opening another. While there is nothing wrong with wanting companionship or even to eventually remarry, it is important to wait until the right time. Find out more about dating, divorce, and common issues you need to consider.
Dating During Divorce
Some people going through a divorce require long months of recovery before they can even begin thinking about going out on a date. Others, after having been in an unhappy or unfulfilling marriage for years or even decades, are eager to jump back into the dating pool. There is nothing wrong with wanting to find someone to share your time with. However, it is in your best interests to wait until after your divorce is finalized.
Dating before getting a final divorce order can create a variety of problems. This includes:
You run the risk of getting into a rebound relationship;
Dating now can distract your attention from important divorce-related matters;
If you have children, it can create confusion and even hostility during what is already a difficult adjustment period;
Dating could impact your rights in a divorce settlement.
It is important to realize that when getting a divorce, until it is finalized you are still considered married. Beginning a relationship now could be categorized as adultery. While this is not grounds for divorce under the Florida Statutes, it could be used in a negative way by your spouse, potentially impacting your rights in regards to marital property, spousal support, and child time-sharing.
When Can I Begin Dating After A Divorce?
Waiting for your divorce to be finalized before beginning dating is a smart idea, both legally and in terms of protecting the best interests of you and any children from the marriage. Once you get a final divorce order, you may be ready to meet new people through friends, social activities, or online dating sites. However, before accepting a date or beginning a new relationship, Marriage.com recommends giving some thought to the following:
Are you repeating past mistakes? Examples include putting someone's needs before your own or ignoring obvious incompatibility issues.
Are you feeling pressured to be in a relationship? Friends and family often mean well in setting you up on dates, but you have the right to say no.
Are you over your spouse? If your spouse initiated the divorce or engaged in affairs, addictions, or abusive behavior, you may need additional time to heal.
Are you happy on your own? Make an effort to be happy on your own before beginning a relationship with someone new. This may mean spending time focused on personal development or achieving career goals.
Contact an Attorney Today for Help
Vanessa L. Prieto has decades' worth of experience as a Fort Lauderdale divorce attorney. She can provide the caring support and trusted legal guidance you need to guide you throughout the divorce process. To request a consultation, call or contact our office online today.