Dealing With Adult Children In A Fort Lauderdale Divorce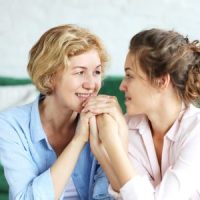 Divorce is never easy, but it can be particularly challenging when there are children involved. With adult children, you do not have to address child time-sharing, child support, or other complex issues, but there are still some problems that can arise. Our Fort Lauderdale divorce lawyer explains some of the challenges and offers tips for dealing with this situation.
Common Issues When Older Parents Divorce
In previous posts, we have discussed how divorce among older adults, otherwise known as 'gray divorce' is on the rise. As the parties in these cases are typically over 50, they are not as likely to have young children to consider as part of divorce proceedings.
Among younger parents, child time-sharing and child support are major issues. The Florida Statutes provide clear guidance in resolving these matters, but there is still a strong possibility that conflicts will arise. With adult children, this is not an issue. However, there are still other matters that must be addressed:
Plans concerning the marital home: This is obviously an issue if you have adult children living with you. However, even if they live on their own, they could still object to plans made during divorce proceedings, such as selling the property.
Their rights regarding an inheritance: Assets you accumulated during your marriage may have been earmarked for your children. Asset division during divorce and increased expenses after could significantly impact the amount they eventually receive.
Assigning blame during divorce proceedings: You are not required to list divorce grounds. However, if your spouse had an affair or engaged in other marital misconduct, it could entitle you to a larger portion in any settlements. Unfortunately, this can create problems when it comes to explaining the situation to adult children.
Discussing Your Divorce With Adult Children
It is important to realize that records regarding divorce proceedings in the Broward County Court are available to the public. This means that even if you do not share details with your adult children, they can still find out on their own. To avoid potential problems, follow these tips when discussing the situation:
Do not focus on blame: Even if it is inevitable that they find out about misconduct on the part of you or your spouse, avoid focusing on blame in any discussions with them.
Have a clear plan: It is natural for adult children to worry about older parents. Having a clear plan of action both during divorce and in the aftermath can provide reassurance.
Avoid oversharing: While you may be tempted to use adult children as confidants, remember your role as parents. Avoid oversharing your concerns or over-relying on them as a source of emotional support.
Reach Out To Our Fort Lauderdale Divorce Lawyer
At the law office of Vanessa L. Prieto, we provide caring support and the professional legal representation you need when facing the prospect of divorce. Reach out and request a consultation with our Fort Lauderdale divorce lawyer today.
Sources:
forbes.com/sites/heatherlocus/2021/08/12/straight-talk-on-gray-divorce–preparing-to-go-it-alone-after-50/?sh=2de996c736f9
leg.state.fl.us/Statutes/index.cfm?App_mode=Display_Statute&URL=0000-0099/0061/Sections/0061.45.html
browardclerk.org/Divisions/Family