Dealing With Debts During Your Divorce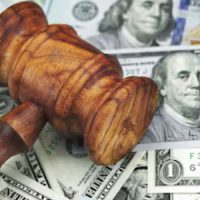 The coronavirus pandemic took a heavy toll on residents of Fort Lauderdale, both personally and financially.  As stay home orders are slowly lifted, an increasing number of married couples are filing for divorce. In addition to the damage to their relationship, business closures and stock market losses have left many of these couples financially devastated as well. Dealing with marital debts is likely to be a major issue in upcoming divorce proceedings.
How Financial Problems Impact Married Couples
According to a May 2020 report by WPLG Local 10 News, the coronavirus pandemic wiped out an entire decade of job gains for the region in just one month. The current unemployment rate is over 15 percent and continues to climb. As stay home orders are finally lifted, businesses are beginning to reopen but there are likely to be many that never fully recover.
The same can be said of some marriages. During the height of the pandemic, health concerns, being stuck home for extended periods, difficulties in obtaining needed supplies, and having to home school children all put additional pressure on married couples. Experiencing job lay-offs and general money problems only made matters worse.
Financial issues are one of the most common causes of marital fights and are a leading contributing factor in choosing to file a divorce. Unfortunately, in addition to destroying your marriage, these types of issues can also complicate your divorce proceedings, impacting the ability to reach a fair settlement and a final order in your case.
Marital Debts And Your Divorce
When filing for a divorce in Fort Lauderdale, one of the first tasks you will need to complete is making an inventory of all marital property and assets you possess. You will also need to detail all mortgages, personal loans, credit card balances, and other debts you owe.
Under section 61.075 of the Florida Statutes, all marital property, assets, and debts will need to be divided on an equitable basis. Factors the judge will consider in determining a fair settlement include:
The amount of time you were married;
The age and health of each partner;
Each spouse's contributions in terms of accumulating property, assets, and debts;
The amount of individually owned property and assets each person has.
If you or your spouse lost your job or experienced job losses during the pandemic, you may have fallen behind on your debts or had to take out additional loans. Likewise, any assets you had in savings or investment accounts also may be depleted. In these cases, there are several options available. You may need to either sell some of your property to pay off certain debts, continue to make payments on them after your divorce, or consider filing for bankruptcy prior to a final order in your case.
Contact Us Today for Help
Financial losses due to the coronavirus pandemic can end up complicating your divorce proceedings. To get the experienced legal guidance you need in this situation, call or contact Fort Lauderdale divorce attorney Vanessa L. Prieto online and request a consultation.
Resource:
local10.com/news/local/2020/05/08/coronavirus-pandemic-wipes-out-decade-of-job-gains-april-unemployment-rate-rose-to-record-147/
https://www.vanessaprietolaw.com/how-problems-that-occurred-during-the-pandemic-could-impact-your-divorce/