How Paternity and Fathers' Rights Benefit Men and Women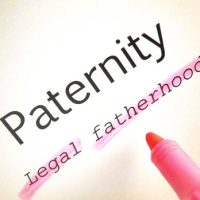 In the past, family court proceedings in cases where parents were divorced or unmarried generally favored mothers. Women may have seemed to have an advantage in terms of being named as the primary caregiver and awarded child support, but they also bore more responsibility in caring for the child and making sacrifices to meet their needs. Men, on the other hand, often got left out of these arrangements, particularly in cases where couples had never wed. Even once they established paternity, the primary focus was on financial support, rather than the actual role they played in their child's life. The Fathers' Rights movement has helped to change this dynamic, benefiting both men and women as well as their children.
Defending Fathers' Rights
It is generally acknowledged that children do better when both parents are involved in their lives, regardless of whether the parties live together. Under the Florida Statutes, the goal for judges is to encourage child time-sharing and parenting plans that allow both the mother and the father to play an active role, provided that there are no issues that could potentially put the child at risk.
This was not always the case. In generations past, there was a general bias in favor of mothers. As a result, fathers' rights were not much of a concern when it came to establishing paternity or in determining the amount of time they were permitted to spend with their child.
The Fathers' Rights Movement has played a major role in changing that. Starting in the early 70s, advocates in the community and in the legal system actively encouraged fathers in assuming their responsibilities while defending the important role they play in their child's life. They also took steps to level out what they claimed was an unfair playing field, bringing about the following changes:
Increased rights in family court proceedings;
Increased roles in child time-sharing and parenting plans;
Better opportunities in terms of allowing fathers paid or unpaid leave to provide for their children;
Greater equality in terms of child support obligations.
How Fathers' Rights Benefit Mothers
In addition to the advances made on behalf of fathers, changes in attitudes prompted by the Fathers' Rights Movement and updated policies within the Florida Family Court system have benefited mothers as well. This includes:
Encouraging men to establish paternity provides better access to information and to certain types of benefits for the child;
More active involvement on the part of fathers takes the pressure off women in having to assume both roles;
Greater responsibility in terms of child support payments and enforcement efforts means less financial struggles;
Shared parenting time allows mothers to pursue their own careers and activities outside the home.

Let Us Help You Today
To find out more about fathers' rights and to discuss issues pertaining to paternity, parenting plans, and child time-sharing or support in your situation, reach out to our Fort Lauderdale family attorney. Call or contact the office of Vanessa L. Prieto online and request a consultation today.
https://www.vanessaprietolaw.com/pandemic-impacting-wedding-plans-dont-forego-your-prenup/