Pandemic Impacting Wedding Plans? Don't Forego Your Prenup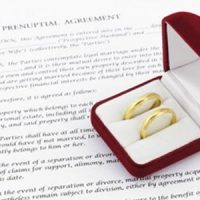 The coronavirus pandemic has impacted families across Florida, preventing them from spending time together. Funerals, graduations, and family reunions have all been disrupted. With the wedding season here, many couples are being forced to make special accommodations for celebrations they likely had planned months or even years in advance. While you may have to cut some corners in terms of your guest list, there are still important details to attend to. This includes taking the time to create a prenuptial agreement, which can help to protect both you and your partner while starting your marriage off on the right foot.
Fort Lauderdale Stay Home Orders Impacting Wedding Plans
Life in Florida and across the country is slowly beginning to return to normal after business closures due to the coronavirus pandemic. According to a May 8, 2020 news report by the Sun-Sentinel, Palm Beach County has already lifted some restrictions, allowing restaurants, stores, and other service providers to reopen at limited capacity. Broward and Miami Dade County are expected to follow close behind, beginning with Phase 1 of economic recovery efforts on May 18.
It will still be some time before life returns to normal, but residents can look forward to resuming some of their normal daily activities. However, social distancing will still be encouraged and will impact large events, including weddings. Many engaged couples have seen elaborate nuptial plans fall by the wayside during the pandemic. If you currently have a wedding scheduled within the next few weeks or even months, you may need to take a second look at some of your preparations. One area you should not compromise on, though, concerns putting a prenuptial agreement in place.
Why A Prenuptial Agreement Is Still Important
Under the Florida Statutes, a prenuptial agreement is a legal document that couples enter into prior to their wedding, which becomes binding once they take their marital vows. It includes important details in regards to the following:
Each person's rights and obligations relating to any property or assets they currently possess;
Each person's rights and obligations when it comes to property and assets accumulated over the course of the marriage;
Provisions regarding ownership and the right to buy, sell, trade, or otherwise manage and control certain property in the event one of the spouses becomes incapacitated or passes away;
Provisions regarding property division and support in the event the couple divorces.
Prenuptial agreements are often wrongly perceived as indicating a lack of faith in the marriage. Nothing could be further from the truth. Money is one of the leading issues couples fight about. Creating a prenup can help to open channels of communication regarding financial matters, making sure both people are on the same page. It also serves to protect each party prior to the creation of estate planning documents after they marry.
Contact Us Today for Help
For additional questions or guidance in creating a prenuptial agreement, reach out to Fort Lauderdale family attorney Vanessa L. Prieto. Call or contact our office online to schedule a consultation today.
Resource:
sun-sentinel.com/coronavirus/fl-ne-florida-coronavirus-cases-may-8-20200508-li7zljja4zesrgscqrpc3ydynu-story.html
https://www.vanessaprietolaw.com/impacts-of-the-coronavirus-on-fort-lauderdale-family-law-cases/