Apps Aim At Helping Domestic Violence Victims Get The Support They Need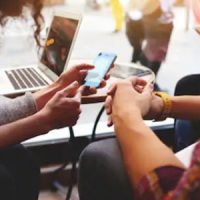 Domestic violence is a serious and ongoing problem in Fort Lauderdale. The situation surrounding the coronavirus pandemic made a bad situation even worse.  Stay home orders have resulted in victims being forced to remain with abusers while social distancing makes it harder for them to get help from family and friends. Technology can ease the sense of isolation they feel. Cell phone apps geared specifically to domestic violence victims provide support and a way to get the help they need.
Domestic Violence During The Coronavirus Pandemic
Being stuck at home for weeks while facing job losses and having to home school children has been difficult for everyone. For those in situations involving an abusive spouse or domestic partner, it can be particularly dangerous. According to an April 2020 CNN report, cases of domestic violence have increased dramatically during the coronavirus pandemic.
Domestic violence is typically about the abuser's desire for power and control. The fallout from the pandemic likely has only increased abusive tendencies. Those who have never acted out before may become abusive while those with a history of domestic violence are likely to escalate their behaviors.
Unfortunately, the same isolating circumstances that make domestic violence more likely now also make it more difficult for victims to get the help they need. An April 23 news report by the Sun-Sentinel claimed that while there are likely higher incidences of domestic violence occurring during the pandemic, phone lines at local domestic violence call centers have gone ominously quiet.
Apps Help Domestic Violence Victims Get Help
Being stuck home with an abusive partner 24/7 makes it harder for victims to get the help they need. In the past, many have reached out to domestic violence call centers for support and referrals while visiting friends or when their partner is at work. Having to stay home together means less freedom to make these calls. Fortunately, a relatively new batch of cell phone apps allows men and women in this situation to get help in a more unobtrusive way.
Over the past year, tech developers have introduced several cell phone apps geared toward protecting domestic violence victims. These include:
One Love: The One Love App offers resources to determine if a relationship is likely to become abusive, guidance on getting help, and support via text and chat.
Aspire News: For victims under the watchful eye of an abusive partner, the Aspire News app looks like a regular online news site. However, hidden within articles are links to domestic violence resources.
Circle of 6: The Circle of 6 app allows you to designate six people from your contact list who can be sent a pre-recorded message, such as, "I need help', or 'send the police', with just one click.
Let Us Help You Today
As an experienced Fort Lauderdale domestic violence attorney, Vanessa L. Prieto is dedicated to providing the legal protection victims need. To find out how we can help you, call or contact our Fort Lauderdale office online today.
Resources:
cnn.com/2020/04/04/us/domestic-violence-coronavirus-calls-cases-increase-invs/index.html
sun-sentinel.com/coronavirus/fl-ne-domestic-violence-up-20200423-b7bsplkg2fgyxialltpsfcgpjy-story.html
https://www.vanessaprietolaw.com/protecting-yourself-against-domestic-violence-during-the-coronavirus-pandemic/