Do's And Don'ts For Announcing Your Divorce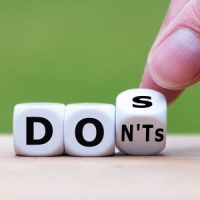 Getting a divorce is major news. However, determining the right way to tell people often presents challenges. Our Fort Lauderdale divorce lawyer offers some 'do's and don'ts' that can help in making this type of difficult announcement.
How To Tell People About Your Plans To Get A Divorce
After spending long months or even years in an unhappy marriage, you may have finally made the difficult decision to get a divorce. Once you break the news to your spouse, or they inform you of impending divorce proceedings, there will be numerous changes you will have to make.
One of your first concerns moving forward is likely to be how to tell the people closest to you about what is going on in your life. Who you tell and how will depend on the circumstances and types of relationships you have. The following provides some basic tips:
Do Tell Your Children First
Children typically sense when there are problems at home. It may be obvious due to fierce arguments or coldness between you and your spouse. One of the first do's in telling people about your divorce is to inform your child first. Parents Today offers a handy step-by-step guide to help you through this difficult discussion.
Do Inform Close Family Members Next
Extended family is generally the next priority in terms of breaking the news of a divorce. However, do not feel compelled to reach out individually to everyone. Start with parents, siblings, or other family members you are closest to. It may be easier to ask them to spread the word to others. However, if you suspect the story is likely to get twisted or misunderstood, better to tell people yourself.
Do Lets Friends and Work Associates Know
If you have a best friend, they likely already know what is happening. Carefully consider how to tell others in your social circle, particularly people both you and your spouse know. When it comes to your job, you may wish to inform your boss or supervisor, as well as any close co-workers. With others (including potential gossips), you have the right to request privacy and respect during what can be a difficult time.
What NOT To Do When Announcing Your Divorce
The circumstances surrounding the breakup of your marriage are a private matter. It is important to be aware that revealing certain details about your situation could adversely impact you in Broward County Family Court proceedings. To protect yourself and your rights, follow these tips:
Don't vent about your spouse or the situation on social media.
Don't reveal the specific reasons for your divorce to anyone other than your attorney.
Don't publicly admit to any type of marital misconduct, such as adultery or addictions.
Don't share information about your assets or marital property.
Don't discuss any proposed settlements or arrangements regarding your children.
Contact Our Fort Lauderdale Divorce Lawyer Today
As an experienced Fort Lauderdale divorce lawyer, Vanessa L. Prieto provides the trusted legal guidance you need when getting a divorce in Florida. Call or contact our office online and request a consultation today.
Sources:
todaysparent.com/family/kids-and-divorce-an-age-by-age-guide/
browardclerk.org/Divisions/Family