Financial Abuse A Common Tactic In Domestic Violence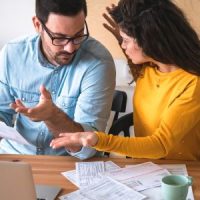 In domestic violence cases, abusers use a variety of tactics to control and manipulate their victims. Financial abuse is one of the most common. By limiting access to money and resources, an abuser can prevent their spouse from leaving them or getting any kind of help in dealing with the situation. Find out more about it and how to protect yourself.
Financial Abuse In Domestic Violence Cases
Under the Florida Statutes, domestic violence is defined as any type of assault, battery, sexual assault, stalking, kidnapping, false imprisonment, or other behavior that could result in the physical injury or even death of a spouse or other household members.
While the law focuses on physical violence, it does not account for other types of abuse designed to inflict emotional harm on the victim. In addition to name-calling, put-downs, taunts, and threats, financial abuse is a common tactic abusers use to get and maintain control. It includes any of the following:
Prohibiting the victim from obtaining a job;
Requiring them to turn over their paychecks or benefits;
Limiting their access to marital funds and resources;
Closely monitoring all financial accounts and questioning every expenditure;
Denying funds needed to meet personal or daily living needs;
Using access to money to obtain sexual favors or other benefits;
Titling all marital property in the abuser's name;
Preventing the victim from having credit cards, taking out loans, or other actions that impact their credit rating.
Financial Abuse Used To Control Domestic Violence Victims
According to the National Network to End Domestic Violence (NNEDV), financial abuse is one of the least talked about types of abusive behaviors. It provides the abuser a way to maintain control of the victim and prevent them from leaving or getting the help they need. For those in this situation, it can tear down your sense of self-worth, incites fear, and makes you completely dependent on an abusive spouse to meet daily needs.
Fortunately, help is available. Seeking an Injunction For Protection Against Domestic Violence is an important first step in rebuilding your life. Otherwise known as a restraining order, it offers the following benefits:
May grant you temporary possession of the family home, car, and other property;
Prevents your abuser from attempting to contact you in any way;
Prohibits them from approaching you at work, school, or in public places;
Requires them to pay financial support, which can help in maintaining household expenses.
Even if their name is on all of your financial documents, a restraining order can provide the freedom you need to open your own bank account, obtain credit, or even apply for school grants or other benefits that help in rebuilding your life.
Our Fort Lauderdale Domestic Violence Attorney Is Here To Help
Do not let financial abuse keep you from leaving a violent relationship. Fort Lauderdale domestic violence attorney Vanessa L. Prieto provides the legal help and support you need to break free. To schedule a confidential consultation, call or contact our office online today.
Sources:
leg.state.fl.us/statutes/index.cfm?App_mode=Display_Statute&URL=0700-0799/0741/Sections/0741.28.html
nnedv.org/content/about-financial-abuse/
flcourts.org/content/download/403225/file/980a.pdf