Five Questions To Ask Before Agreeing To A Prenuptial Agreement In Fort Lauderdale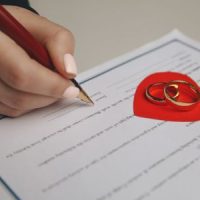 A prenuptial agreement is a legal contract signed by a couple that goes into effect once they are married. It details property and assets, discloses expectations in regards to money, offers estate planning benefits, and provides important protections in the event of a divorce.
Prenups often get a bad rap. A common myth is that they indicate doubts about your relationship and that a divorce is likely. In fact, the opposite is true. It is important to be cautious, though, when entering into one. The following are five questions to ask yourself before signing.
Ask Yourself These Questions Before Signing A Prenup
Business Insider reports that increasing numbers of couples are entering prenuptial agreements prior to saying, "I do." It can provide important protections for both you and your partner and helps to prevent future misunderstandings in regard to money.  Before signing, ask yourself the following:
Is it reasonable?
Under the Florida Statutes, a prenuptial agreement can convey the rights to buy, sell, manage, or otherwise share in the ownership of property, goals in terms of savings, retirement, and the overall lifestyle you expect to enjoy during your marriage, and plans in the event one of you become incapacitated.
In all of these matters, your prenuptial agreement should not unfairly benefit one spouse over the other, make them dependent, or deprive them of fundamental rights in the event of a divorce.
Does it disclose all assets and debts?
A prenuptial agreement should disclose all individually owned premarital property, assets, and debts. This includes real estate, cars, household belongings, money in financial accounts, and shares in businesses. Attempting to 'hide' certain things by not disclosing them in a prenup could result in it being declared invalid.
Am I waiving important rights?
A prenuptial agreement details rights regarding property and assets during your marriage and in the event of a divorce. However, there are some matters which may not be included. This includes agreements regarding children, child time-sharing arrangements, and child support.
Have I had time to thoroughly review it?
The idea of entering into a prenuptial agreement should be brought up months prior to the weddings. Both parties should enter into it of their own free will, not feel pressured to sign it, and should have plenty of time in advance to review all of the terms.
Have I consulted with an attorney?
One attorney cannot represent you and your spouse both in a prenuptial agreement. Prior to signing, consult with your own lawyer to ensure it is in your best interests. If your partner or their legal representative balks at this idea, consider it a red flag.
Request A Consultation With Our Fort Lauderdale Prenuptial Agreement Attorney 
At the law office of Vanessa L. Prieto, we will be happy to help you create a prenup or review one your future spouse is wanting you to sign. To request a consultation, give us a call or contact our Fort Lauderdale prenuptial and postnuptial agreement attorney online today.