Five Steps To Getting A Divorce Process In Fort Lauderdale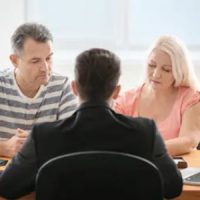 Most of us know at least someone, if not several people, who went through a divorce in Florida. While they may have shared their experience, you likely still have questions about the process.  Our experienced Fort Lauderdale divorce lawyer explains the five basic steps involved in getting a final divorce order and moving on with your life.
Determining The Type Of Divorce
Under the Florida Statutes, there are generally two types of divorce. A simplified divorce is when the parties do not have children and or any disputes regarding marital property division and other important issues. A regular dissolution of marriage is needed in more complex cases and when child time-sharing arrangements are needed.
A simplified divorce can often be resolved in as little as two months and is relatively inexpensive. A regular divorce can take considerably longer, depending on how difficult it is to resolve relevant issues. The longer the case drags on, the more you are likely to pay in legal fees.
Filing/Answering A Divorce Petition
Once we determine the type of divorce you require, we draft a formal divorce petition and file it with the Broward County Family Court. A petition will state the names and addresses of the parties, whether they have children, any allegations of misconduct, and what they are seeking in regard to a divorce settlement. This will also be served on your spouse, who then has 30 days to file a formal answer. If they file for divorce first, you will be served. We will guide you in answering and asserting your own claims.
Discovery
The discovery phase involves gathering pertinent information needed to resolve your divorce case. This includes completing financial disclosures for each party, which should list all income, property, and assets, as well as providing paystubs, bank account statements, past year tax returns, and other pertinent documents. 
Negotiation/Mediation
Our lawyer will negotiate with the other party in an attempt to reach a reasonable out-of-court settlement. If this is not possible, the court may order mediation, in which an impartial third party listens to each side and offers suggestions to resolve any disagreements.
Taking Your Case to Court
A divorce settlement allows for more customized arrangements, rather than having a judge decide on important issues pertaining to money, property, and children. Once a settlement is reached, a judge will then issue a final divorce order. If a reasonable settlement is not an option, we can argue your case in court. The goal is always to protect your rights and get you the maximum amount you are entitled to and need to move forward in your life.
Contact Our Fort Lauderdale Divorce Lawyer
If you are considering a divorce, get the trusted legal guidance you need from Fort Lauderdale divorce lawyer Vanessa L. Prieto. We help you get the best possible results in your case, in the most efficient and cost-effective manner possible. To request a consultation, call or contact us online today.
Sources:
leg.state.fl.us/statutes/index.cfm?App_mode=Display_Statute&URL=0000-0099/0061/0061.html
browardclerk.org/Divisions/Family